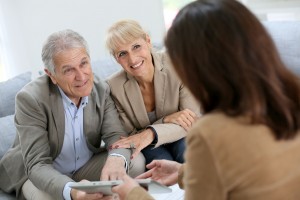 Whether you are just beginning house hunting, seeking pre-approval on a home loan or applying for a loan, it is important to have an understanding of different mortgage types. Equally important is giving your home loan a thorough read before signing. Simply scanning mortgage documents for highlights can leave room for future surprises. Here are five essential points to look for in any home mortgage loan.
1. The Details of Your Home Loan
If you need a better understanding of home buying and the mortgage process, contact First Option. We genuinely care about finding a home loan that's a perfect fit for your unique situation and the type of property you're investing in, i.e., a short- or long-term investment. Two of the most popular loans are an adjustable-rate mortgage (ARM) and a fixed-rate mortgage (FRM).
With an ARM, the interest rate fluctuates based on the national interest rate index rather than because of the mortgage lender. ARMs are better for short-term investments. Every ARM starts out with a period of time in which the interest rate is fixed, generally as short as a month and as long as 10 years. For instance, if you are flipping a home, you could lock in a low interest rate with an ARM, and sell the property before the rate is adjusted. Remember these things when looking at the fine print of an ARM:
By law a lender must disclose clear information on ARM features.
Take note of the adjustment rate, also known as "margin rate."
Know which rate index your ARM is based off of.
Know in advance the period for which the rate is fixed.
Confirm if you have an option to convert to an FRM if needed.
Related resource: "Is an Adjustable Rate Mortgage a Smart Idea Right Now?"
With a FRM, you have a choice between a 15- or 30-year loan. Many borrowers are attracted to FRMs because they know the interest rate remains the same and they can better plan and budget for mortgage payments. Your lender will be able to advise which FRM is best for you. Before signing:
Know what tax advantages are available to you. While this may not be in the loan documents, it is something your lender should be able to discuss. A tax advisor is better suited for deeper questions.
Understand if and when refinancing is a smart option.
Know all the fees associated with your loan. It may help to highlight them so you don't forget about them in the future.
2. Is There a Prepayment Penalty?
It is hard to believe, but yes, you can be penalized for paying off your loan early. Many banks and lenders have a prepayment penalty because if you pay off early, they don't make a return on their investment. A prepayment penalty is not necessarily a bad thing since it generally means you were offered a lower interest rate or closing cost. Before repaying early, be sure to find out if there is a penalty built into your home loan. Ask your lender directly, and have the lender point it out in the mortgage documents so you can see the full details. Your lender might call it a "prepayment disclosure". You'll want your lender to be clear on how to lower the penalty if the situation arises.
3. What Is Your Loan's Default Penalty?
Most lenders view a borrower as delinquent if they're 90 days or more behind payment schedule. Make sure you know in advance what happens if you default on your home loan. Most lenders will find a way to help you if you immediately contact them when financial stresses first hit. For instance, your mortgage lender might set up a forbearance agreement with you.
Remember, First Option is here for you! We want our borrowers to not only find their dream home, but also to be financially successful in your investment. We are always available to advise on home loans. To start planning your monthly payments, check out the First Option online mortgage loan calculator. Give us a call today at 855-699-5668!
Tags: first option mortgage, Home Loan, homebuyer, mortgage loan