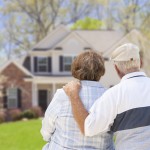 Have you ever thought of your home as an ATM? Most people don't, and they miss out on an opportunity to get cash when they need it most.
Reverse mortgages
allow homeowners over the age of 62 to use the equity in their homes to supplement their monthly income or take care of unforeseen expenditures. Another way that people are able to take advantage of their home's value is through a home equity line of credit (HELOC). Each has its unique differences, and knowing what they are could help you determine which option is best.
What is a HELOC?
HELOCs vary from home equity loans in that you're allowed to borrow as much or as little as you like, depending on your circumstances. Most people choose a HELOC when they need to make a major one-time purchase. These lines of credit are usually best for those whose finances are in good shape, as they entail specific (usually monthly) repayment requirements.
HELOCs are subject to interest rate hikes, should you fail to pay on time, and are subject to varying draw periods. But since HELOCs are backed by collateral — in this case, the home itself — rates tend to be lower than what traditional loans or credit cards can offer. Some people choose to consolidate their debt using a HELOC, which allows them to decrease their monthly payments. HELOCs also offer a chance to increase your credit score as long as you make on-time monthly payments.
What is a reverse mortgage?
Reverse mortgages come in a few shapes and sizes, from single-purpose and proprietary reverse mortgages, to FHA-insured HECM reverse mortgages. Aside from the age requirements, the main difference between reverse mortgages and other types of home equity loan programs is that the loan typically doesn't become due until the homeowner dies, moves, or sells the home.
While interest rates can fluctuate with a reverse mortgage, it only affects the outstanding balance, not the available funds. Many people choose a reverse mortgage because of its various payout options. While you may be able to receive the payment as a lump sum, you may also have the option of receiving funds in the form of a monthly tenure payment or as a line of credit. It's a good option for people who need to fulfill ongoing financial obligations.
Choosing how to tap into your home's equity depends on the particulars of your situation. If you need to make a major one-time purchase, a home equity line of credit might be for you. If, on the other hand, you're looking to supplement your income, you might consider a reverse mortgage. If you're ready to move forward, we invite you to contact us or apply online today.