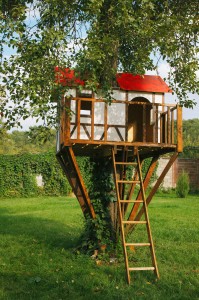 Now that school is out and summer has officially arrived, quite a few parents are wondering what to do with their kids. Summer can mark a great time for family bonding, but the transition and break from routine isn't without its difficulties. Whether you're busy  moving, recently settled into a new neighborhood, or content in the home you've owned for years, we understand the pressure to create a fun summer for your family. Wherever you live, these five fun activities can make for a memorable summer for your kids—and you.
Go for a Night Walk
Even if you live in a state where the summer nights are chilly, a stroll after sunset can be a fun—and illuminating—experience for your kids. Pack a light jacket and flashlight, find a park open late, and enjoy another world. Fireflies, bullfrogs, and stars come out at night, offering a glimpse of the natural world not often seen.
Plant a Garden
Gardens require a significant amount of time and effort, so starting yours in a season when you have some help makes the job easier, and more fun! A summer garden can instill a lot of values in your kids, from industriousness to learning how the earth operates, and if done well it can raise the value of your home. Starting off small with flower seeds and a few rows of vegetables makes your first foray into gardening more manageable, and by fall you'll still see the fruits of your labor.
Visit an Art Museum
An art museum sounds educational, which kids on their summer vacation will interpret as boring, but it can be fun, especially if your kids enjoy creativity. Anecdotes about Vincent Van Gogh, lurid expressions of emotion, and historically rich pieces from millennia ago will become exciting to just about anyone. If your children appreciate the experience enough, consider buying a family membership and take them regularly to discuss and invent stories about different paintings.
Build a Tree House
Building tree houses is the quintessential summer activity, and even in an age of Xbox and iPhone touches, kids have an innate desire to spend time in the great outdoors. A platform treehouse or clubhouse on stilts appeals to that instinct, and building one often leaves kids with a sense of empowerment. If done well it, like a garden, can improve the value of your home.
Plan a Summer Party
Summer is a time for barbecues and pool parties. It's a celebratory season, so planning an end-of-summer party with your kids becomes a great thing to look forward to. If you begin months in advance, you can avoid the stress that usually coincides with event-planning. Additionally, it'll give you time to assign responsibilities and supervise your kids. Putting them in charge of menus and invitations, or later games and decorations, will keep them invested in the planning all summer. A party with friends, family, and neighbors will serve as a fun end to a fun summer.
If you're planning to purchase, refinance, or want to learn more about our mortgage rates, simply fill out our Fast Response form or give First Option Mortgage a call at 888-644-1999.  Our experienced mortgage professionals would love to sit down and discuss your needs. We look forward to hearing from you!
Tags: Everyday Living, first option lending, first option mortgage, Selling Your Home, summer ideas