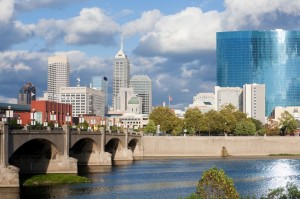 If you're one of the many Indianapolis homeowners struggling each month with your mortgage payments, hope may be on the horizon with HARP, the Home Affordable Refinance Program. The
Indianapolis Business Journal
reported earlier this month that mortgage rates have fallen to a 2014 low, which is welcomed news for homeowners who could save through refinancing—and HARP has made refinancing more possible for more people. Created specifically to give more Americans access to lower mortgage rates, this program has saved thousands of Indianapolis residents hundreds every month on their mortgage payments. It could be a smart choice for you too!
What is HARP?
HARP began as a part of the American Government and Reinvestment Act, targeted at homeowners who needed to refinance but may not have been eligible for other methods of refinancing. As the program evolved, it expanded its eligibility, giving more people access—particularly households with underwater mortgages. In the past five years, HARP has saved countless Americans thousands of dollars every year, including thousands of Indiana homeowners. In some months the program accounted for as many as 20% of all U.S. refinancings.
Secure a Low Indianapolis Mortgage Rate
After rising steadily since December 2013, earlier this month average rates for 30-year loans decreased from 4.29% to 4.14%, the lowest mortgage rates have been in the last seven months. Fixed rates on 15-year loans also dropped significantly: from 3.38% to 3.32%. If you bought a home in Indianapolis when rates spiked and have been wanting to refinance and secure a lower rate, the time to act is now. Analysts predict these sudden lows won't last long, so acting fast to refinance could save you tens of thousands of dollars over the life of the loan, and hundreds on your mortgage payment every month. HARP makes refinancing easier for all homeowners, even those who have an underwater mortgage.
Underwater Mortgages in Indianapolis Are Eligible
Since 2009, HARP has given more and more homeowners access to refinancing, including many who struggle with underwater mortgages thanks to changes in HARP 2.0. The IndyStar reported that Indianapolis home values are steadily increasing; home prices rose 5.5% in April compared to the same period last year. That's a statistic any Indianapolis homeowner can celebrate, especially those who currently owe much more than their home is worth. At First Option, you can refinance loans through HARP for as much as 200% of your home's appraised value. We also allow refinancing on mortgages with private insurance attached and require a minimum credit score of just 580, lower than what most banks and lenders require.
Most Indianapolis Mortgages Qualify
Thanks to recent changes in HARP, both Freddie Mac- and Fannie Mae-backed loans are eligible for refinancing through HARP. Because most mortgages in the U.S. come from these two programs, most Indianapolis homeowners can access HARP. The primary stipulation is that your loan must have been settled on or before May 31, 2009. If this applies to you, and your mortgage rate is substantially hirer than the current 30-year fixed rate, you might be the perfect candidate to save hundreds every month through refinancing. Contact a local Indianapolis lender today to see if HARP is the right program for you.
If you're interested in purchasing and would like to speak with a local real estate expert, call Sheri Coldren at Hometastic Real Estate Group at (317) 727-4626.  If you would like to learn more about mortgage rates in Indianapolis, simply fill out our Fast Response form or call our local branch at (317) 713-9500. Our experienced mortgage professionals would love to sit down and discuss your needs. We look forward to hearing from you!
Tags: government assistance, Government programs, HARP, HARP 2.0, Indianapolis Home Loan, indianapolis mortgage, mortgage interest rates, refinance, refinancing