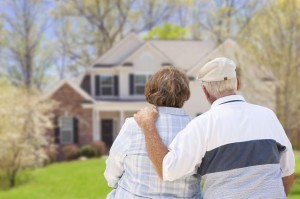 At some point, most of us have to support aging relatives transition into their next stage of life. This can take many forms, but it usually involves moving them out of the home where they've lived for decades—sometimes their entire lives. It's always a difficult process, emotionally and logistically. If you have to sell an aging relative's home, consider this guide to prepare your relative for the change and the property for a new owner.
The Initial Move
Whether you're moving your relative into your own home or into a retirement community, you need to prepare the new space in advance to provide some level of consistency. The most common way of doing this is to equip their new home with furniture and decor from their old one. If possible, choose the pieces and mementos together, understanding most of their possessions will have to be left behind. This initial move is usually the most emotional step in the whole process, but if you're able to relocate their most cherished belongings, sorting through the rest will be easier.
What Possessions Remain
Once your relative is settled in their new home, you can really begin to prepare their old home for sale. Just as you would when selling your own home, go through all of the remaining possessions and decide what to keep, toss, and sell. Most of the furniture and heirlooms may have already been designated to go to certain relatives; if not, consider which family members would like or could use the items left behind. Once you've saved or given away the most sentimental items, put the rest on Craigslist or plan an estate sale, and donate whatever you can't sell. Most of this money can be used toward the renovations every aging relative's home needs.
Some Necessary Renovations
Once the home is empty, you may notice something continues to linger: a smell. Many older homes develop a distinct odor over time—which is rarely pungent, but it can deter homebuyers who are also browsing new properties. We've written a guide on how to remove the smell of smoke from your home, and while the scent of the home you're trying to sell may not be nearly so strong, many of the pointers in that guide are useful.
It's usually a wise idea to repaint the walls a neutral color, or at least clean them thoroughly. You should also look into buying a few new appliances if the kitchen is especially dated. Old microwaves and dishwashers can make or break a sale for many people, who see them and imagine the imminent replacements.
Speak with a realtor about any other renovations you may need to make. They have a good sense of what buyers will tolerate. Even if shag carpet in the den seems like it would be a real estate dealbreaker, they'll have a better sense of whether replacing it would be worth it.
The Listing
Once the home is ready for the market, craft a listing that highlights its best features—and sidesteps the fact that the property is older. Instead, use terms like "charming" and, if appropriate, "rustic." If it's an aging neighborhood, mention the quiet and safe area, ideal for raising a family. If you did install new appliances, note them with specific brand names. Some buyers are only interested in newer homes, but if you word the listing well, you can attract a wide array of potential buyers, increasing your chances of selling at or above your asking price.
If you're selling an aging relative's home and are interested in helping them purchase a new property, or learning more about refinancing or mortgage rates, simply fill out our Fast Response form. Our experienced mortgage professionals would love to sit down and discuss your needs. We look forward to hearing from you!
Tags: Everyday Living, house hunting, Real Estate, Selling Your Home