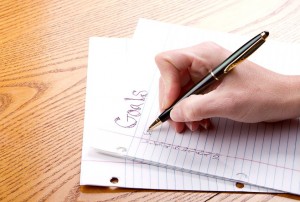 Pick up any self-help book and you'll see a common theme: most successful people agree that to be successful, you must set goals. The logic is simple. If you can't formulate your goals, you won't be able to achieve them. Whether you have financial or relational ambitions, having a strategy to grasp them is wise for anyone. Setting goals can help you in myriad ways for the future, and we've outlined a few techniques to do so.
1. What Needs Changing?
Make an inventory of the things in your life that you want to change. In what areas are you content? What would you like to be different? Consider material goals, like those related to your home and finances, but don't forget about your family, and yourself. Would you like to be saving more? Would you rather live in another neighborhood? Did you hope to have children by now? Or expect to spend more time with your kids? Writing down all of the elements of your life you'd like to change will lay the foundation for your goals.
2. What Would Change It?
Study every item on your list, and decide upon a long-term goal for each one. What does your ideal future look like? If you don't exercise as much as you'd hope to, decide how many days a week you'd visit the gym in a perfect world. If your savings account looks empty now, write down how much you hope to have in it by the time you retire. Be as lofty as you like, just be honest. What would it take to be content with the things in your life you'd like to change? These long-term goals can appear unattainable, because you likely have many years if not decades to reach them.
3. How Can You Get There?
Every personal trainer and financial counselor will agree you need to start small to avoid burnout. If you decided you want a spouse and kids but are currently single, signing up for a dating site is sensible first step. Look at your two lists, the realities you'd like to change and the fantasies you aspire to, and begin to connect the dots. Remember that going from A to B will be more complicated than it sounds. There will likely be many steps along the way, but as long as you keep them small, and maintain a forward motion, you'll be moving toward the future you've envisioned.
If you're ready to make a move and are interested in purchasing, refinancing, or learning more about mortgage rates, simply fill out our Fast Response form. Our experienced mortgage professionals would love to sit down and discuss your needs. We look forward to hearing from you!
Tags: Everyday Living, first time home buyer, house hunting