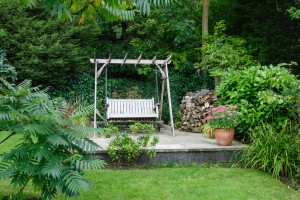 Good news for folks with a small yard — size doesn't have to be a barrier to having a beautiful space to live and relax in! We've pulled together a bushel of great ideas to help you do a lot with a little.
You'll find that planning is important. Whether you're landscaping to attract buyers or creating your own oasis getaway, it's important to learn your property boundaries so you know what you're working with — and ensure you don't improve the neighbor's yard by mistake! Take some measurements and sketch out the potential layout. If there are immovable features, like a large tree or section of fence, include them in your sketch. Once you've done all that, you can decide on a concept. DIYers, this is your moment to shine. Here are a few ideas to get you started:
Go vertical
When there's not a lot of yardage, you can always climb high into the sky! If you're a green thumb, there are all sorts of options to take your garden to new heights. Eye-bolt hanging gardens into the eaves; tier planters on top of each other; or mount plants to walls and fences. Take advantage of every surface with climbing vines, potted plants, and living partitions.
Modular gardens
If you can't decide on just one backyard layout, or need moveable features to make space for entertaining, never fear — that's why Seibert Chesnutt invented the caster. (Not really, but close enough.) You can put casters on planters, large pots, or recycled furniture and roll them around to different areas. Find modular furniture and decorations that can be easily moved and shaped to match whatever layout you're feeling at the moment. There's plenty of modular garden inspiration on Pinterest. Or find creative solutions like modular deck tiles with a quick internet search.
Focus on a single feature
If you're struggling with a theme, start with just one thing and build the design around it. Large distressed furniture that's past its indoor prime can be made like new as a big refurbished planter. Water features quickly become the center of attention on hot days, or a brazier turns into a social circle on cooler nights. With a small fire pit, you'll need some chairs for lounging, and maybe a few skewers for roasting marshmallows too.
Play with perspective and space
Consider unconventional layouts for your backyard. If it gets too crowded with a bunch of chairs, try adding a bench. Don't be afraid to explore diagonals! This is part of the reason why you decided to buy a fixer-upper — it's the chance to make and change something all on your own!
Everyone loves having a big yard to play in, but we've hopefully given you a few ideas for how to have fun with a smaller one. However, if you're looking to score a bit more real estate and a larger yard, send us a message on our quick response form so we can get you started on the journey to finding a home that's right for you.
If you have any great ideas for landscaping in a small area, let us know on Twitter or Facebook.
Tags: curb appeal, Everyday Living, Gardening, home value, Selling Your Home