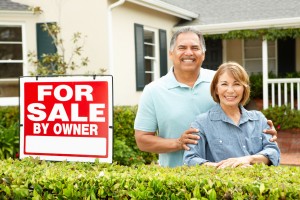 It's the first major decision you'll have to make as a home seller: hire a realtor or go it alone? The benefits and detriments on both sides are many, and whole industries have been built around each choice, which complicates the decision-making process. To help you decide whether selling your home yourself is right for you, we've outlined the pros and cons.
Profit
The realtor's commission is probably the biggest factor you'll take into account when deciding to list your home FSBO (For Sale By Owner). His or her percentage of the sale can dig into your profit, which is generally the reason people ever ultimately choose to go it alone. Housing market statistics, though, show that over 70% of homes listed FSBO aren't sold, and many go for much lower than their asking price. Realtors know their markets well and what a competitive price will be. Because their commission gives them a vested interest in closing at the asking price or higher, their expert negotiation skills will help you get the most from your home.
Listing
Realtors have access to Multiple Listing Services, which publish and promote your listing across multiple publications and websites. Both realtors and independent house hunters use these sites and publications to find potential homes. For a fee, you can list a FSBO home through these programs, but it can be costly, and you may not have access to all of the features that a realtor would.
Showing
If you hire a realtor, you may be confined to their showing schedule. Depending on the busyness of your household, it can seem impossible to accommodate multiple showings throughout the week. Showing the home yourself, though, can take up even more time, since you'll be responsible for scheduling the visit, giving the tour, and coordinating with a spouse or friend to ensure you're never home alone.
Paperwork
Both real estate agents and realtors are licensed professionals, skilled in the bureaucratic requirements of closing a sale. If you list your home FSBO, you'll have to educate yourself. Multiple books on the subject are available to guide you through the process. Studies have found, though, that many buyers tend to choose homes represented by realtors more, since they're more experienced in these matters.
First Option Mortgage works with both independent sellers and anyone using a licensed real estate professional, but if you're interested in finding a realtor or real estate agent, contact us. We'd be happy to recommend a great professional near you!
If you're planning to purchase, refinance, or learn more about mortgage rates, simply fill out our Fast Response form or give us a call at 888-644-1999.  Our experienced mortgage professionals would love to sit down and discuss your needs. We look forward to hearing from you!
Tags: Everyday Living, housing market statistics, Real Estate, Selling Your Home