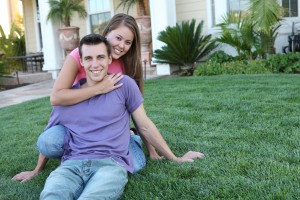 Going from a renter to a homeowner marks a big transition in your life. The commitment, the financial obligation and the responsibility of owning a home can be both frightening and exciting to reflect on.  As you make this transition, one of the first things you will have to consider is how you plan to pay for your home. A majority of Americans require financing from a bank in order to be able to afford to purchase a new home and it is likely, you will as well. Before you rush headlong into shopping for your first mortgage, there are some basics you should be aware of.
What Is an Annual Percentage Rate?
Often confused with the regular interest rate quoted on a mortgage, an Annual Percentage Rate is the regular rate plus any origination and discount points, mortgage insurance, processing fees, as well as underwriting and document preparation fees. When mortgage shopping, be sure you are comparing APR to APR from the various mortgage lenders you get quotes from in order to make an apples to apples comparison on the loan options you are presented with.
Do Mortgage Rates Fluctuate Throughout the Day?
In short: Yes. Mortgage rates are extremely fluid, and like the stock market they can change hour-by-hour. They're unlikely to shift too dramatically in a short time period, but they do shift. Recently mortgage rates have begun to climb from their close to historic lows seen in recent months. The trend is likely to continue making now a great time to begin your search for your Florida mortgage and lock in a low rate while it lasts.
What Is Mortgage Insurance?
Many buyers who put down less than 20% of their home's value are required to pay for PMI, or Private Mortgage Insurance. If you find yourself unable to make payments, this insurance protects the lender. As such, it's an additional fee you'll need to consider when budgeting for mortgage payments, though many lenders stop requiring it once a certain percentage of the loan has been paid off.
How Soon Can You Refinance?
Contrary to common perception, there's no standard time of waiting to refinance. If you've just closed, it's unlikely rates will change dramatically enough to warrant refinancing in the first few months. The market has stabilized, but better rates can appear at any time. If you feel the need to refinance, even in the first year of your current mortgage, you may be eligible.
If you are interested in speaking with one of our loan officers about applying for a Florida mortgage or would like to discuss the types of programs we offer, simply fill out our Fast Response form or give our local Jacksonville branch a call at (904) 332-7800.   Our experienced Florida mortgage professionals are happy to sit down and discuss your needs. We look forward to hearing from you!
Tags: first option lending, first option mortgage, first time home buyer, florida first-time homebuyer, Florida Mortgage, Jacksonville Mortgage