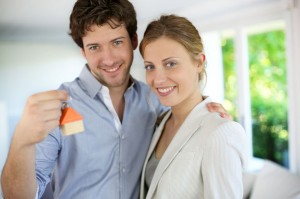 If you are looking to purchase or refinance a home in Indianapolis, one of the biggest choices you will make during your home buying process will be choosing between a fixed-rate and an adjustable-rate mortgage.
Before you buy a home, we highly recommend talking to a mortgage lender who is licensed in the state of Indiana to help determine which type of mortgage is right for you. Here is an introduction to the difference between fixed-rate and adjustable-rate mortgages in Indianapolis.
Fixed-rate Mortgages
Fixed rate mortgages are the most common option, and as their name implies, the interest rate never changes during the duration of the loan.
The most common fixed-rate mortgage has a term of 30 years. This means the mortgage amortizes over 30 years, and most of your monthly payments early on will be going towards interest. Once you've paid off the interest, the later payments will go towards the principal (click here to learn more about what makes up a mortgage payment).
If you choose a 15-year term, your monthly mortgage payments will be higher than they would be in a 30-year mortgage, but you'll be paying less in interest over the life of the mortgage.
Adjustable-rate Mortgages
An adjustable-rate mortgage, or ARM for short, is a loan with an interest rate that changes, which means that your payments may change over the term of the loan.
Interest rates for an ARM are generally lower in the beginning than those for a fixed-rate mortgage, and therefore your monthly payments may start out lower.
Your rates and payment may change periodically, with a frequency between one month and ten years depending on the adjustment period of your mortgage. Rates change based on the index, which is a measure of interest rates; if the index is up during your adjustment period, your rate will go up, as will your monthly payment. The reverse is true if the index goes down, so there's a chance your monthly payments will be lower as well.
At First Option, our fixed-rate and ARM loans are tailored to Indiana law and regulations. We have local experts who understand your unique needs, so our Indianapolis mortgage team is here to serve you.
If you plan to purchase or refinance a home, fill out our Fast Response form or give us a call at 888-644-1999.  Our experienced mortgage professionals are happy to sit down and discuss your needs. We look forward to hearing from you!
Tags: first option mortgage, home mortgage, indianapolis mortgage, mortgage interest rates, mortgage lender Indiana