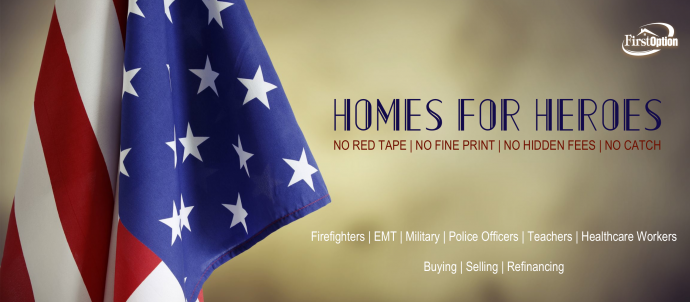 At First Option Mortgage, we strive to change people's lives for the better by helping families achieve the dream of homeownership, providing a work environment for our employees that fosters growth and wellbeing, providing our realtor colleagues with a meaningful partnership, and by giving back to the communities that have given so much to us
In honor of the many men and women that are on the front lines both abroad and at home, we support the Homes for Heroes program in Salt Lake City. This amazing program provides huge discounts for firefighters, EMT's, military personnel, peace/police officers, teachers and healthcare workers that are looking to purchase, sell or refinance a home.
Working in tandem with our amazing real estate partners, local business leaders, and the Homes for Heroes Foundation to show our appreciation and gratitude for their amazing service, we are helping to provide real savings to the people who work so hard to make our communities and country a safer and better place to live.
Are you a hero in Utah that is interested in taking advantage of this opportunity? Here is a full list of our preferred real estate partners who participate in this program.
Burgess Cline
Interstate Realty Brokers
801-403-8556
Shauna Jorgensen
Realty Path Real Estate
801-518-6510
info@shaunaj.com
Anne Tuckett
Equity Real Estate
801-598-0101
anne@equityutah.com
Melissa Van Leeuwen
Equity Real Estate
801-602-4383
Van.melissa@yahoo.com
Wendy Hilton
Equity Real Estate
801-450-4004
Wendy.hilton@equityutah.com
To find out more about Homes for Heroes or to discuss the loans we offer with one of our Salt Lake City loan specialists call First Option Mortgage at (801) 285-9545. Our experienced mortgage professionals would love to sit down and discuss your needs. We look forward to hearing from you!