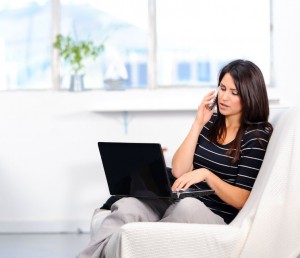 Home loan shopping can be daunting, but shopping online can make the process a whole lot easier, saving you time and possibly money. That is, if you follow these 5 simple rules:
1. Avoid Scams
Do some research to make sure the company you are about to hand all of your personal financial information to is a legitimate lender and not a con artist or fly-by-night operation. If it sounds too good to be true, it's probably Peggy from USA Prime Credit. And by all means, NEVER respond to an email offer unless you are absolutely sure of the sender's credentials. It's always a good idea to do your research first and initiate contact yourself. You can visit the newly formed Consumer Financial Protection Bureau for resources on protecting yourself.
2. Read The Fine Print
Read the fine print of each organization you choose to work with. If you are shopping for loan rates on sites like Bankrate.com or LendingTree, also be sure to read their "frequently asked questions" section, and recognize that these sites are businesses that make money by working with lenders, via a pay-per-click formula or by selling leads.
3. Find Out How Your Information Will Be Used
If you provide personal information, including your credit score, find out how widely that material will be circulated. Understand that many lenders may be contacting you. At Zillow, the average number of rate quotes customers receive is 20, while at LendingTree it is 3 to 5, according to both companies.
4. Be In Control
This is where reading the fine print can be crucial. Know what initiation fees and closing costs are involved with the loan. Know the criteria for matching you with the right lender and whether lenders can pay for higher consideration. Research loan types and always feel like you are the one in control.
5. Comparison Shop
This is often the most overlooked step in home loan shopping. A recent survey conducted by Harris Interactive, found that only 1 in 2 consumers comparison shop for a mortgage while rates can vary by as much as 1.5% on a 30 year fixed loan for the same consumer. Homebuyers often feel intimidated by this process and tend to settle with the first approval they receive. Of course, it is also important to consider the level of service you will be receiving from your lender.
If you're currently planning to purchase, refinance, or want to learn more about mortgage rates, simply fill out our Fast Response form or give us a call at 888-644-1999. Our experienced mortgage professionals would love to chat with you about how First Option Mortgage can help.
Tags: Finance, Home Loan, Mortgage, online shopping, Real Estate, refinance