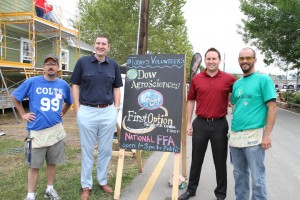 For a second year, First Option Mortgage is pleased to be teaming up with Hank FM and Habitat for Humanity of Greater Indianapolis to support the annual Agriculture Build at the Indiana State Fair. Not only will the First Option Mortgage Indianapolis staff be on hand to help build a home for a family in need, but will also be underwriting the media for the Habitat for Humanity home.
In its fourth year, the Habitat Ag Build is a great way for those visiting the Indiana State Fair to become acquainted with Habitat for Humanity and enjoy seeing a build in action. Built in just 14 days, the home is constructed at the fairgrounds and then moved to its final resting place where one hard working individual will receive the keys to homeownership.
This year's Ag Build future homeowner is Joseph Olumullah. This proud father and Kenya native came from humble backgrounds. After moving to the United States, Joseph said, "I had high hopes of owning my own house because I was made to believe that this country has enormous opportunities." Through his employment at IU Health and various connections, Joseph began participation in the Habitat homeownership program, which includes 450 hours of "sweat equity." He is excited to share his home with his son, Jayden.
In addition to supporting this year's Agriculture Community Build, First Option will also be donating $100 from every closed home loan in Indianapolis throughout the month of August.
"At First Option, we recognize our responsibility to give back to the communities in which we do business," said Tim Burford, CEO and Managing Partner of First Option Mortgage. "Our passion is service and caring for others; whether it's a customer, colleague, or our community, we strive to help those in need."
If you are interested in finding out more about supporting your local chapter of Habitat for Humanity, you can visit them online at http://www.habitat.org/. For more about obtaining a home loan in the greater Indianapolis area and supporting Habitat for Humanity of Greater Indianapolis fill out our Fast Response Form or give our local branch office a call at 317-713-9500. We look forward to hearing from you!
Tags: Charity, first option lending, first option mortgage, Indianapolis Home Loan, indianapolis mortgage