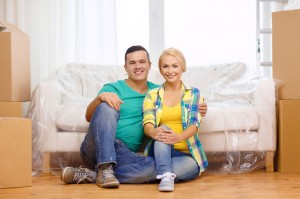 Despite small dips in recent weeks, mortgage interest rates are up. Halfway through September, the
average 30-year fixed rate spiked
, jumping from 4.12% to 4.23%, the highest it's been since May. Up until that point, rates were pretty steady, fluctuation slight. By the middle of last week, rates had decreased slightly, but they remain high, which can be difficult for anyone
looking to secure a mortgag
e—especially first-time homebuyers. If you want to buy your first home but feel deterred by rising rates, try one of these four strategies to gain a competitive edge.
1. Ask Your Parents
It sounds a little infantilizing, but it's always been common for relatives to help first-time homebuyers with their down payment, and it's happening more often these days. In 2013, 27% of all first-time homebuyers received financial gifts from family and friends. There are quite a few economic explanations for this.
Personal wealth is on the rise. With home values up, the stock market growing, and 401(k) plans almost double their worth five years ago, older Americans have more disposable income. Rather than save everything for a future inheritance, many parents and grandparents are gifting their money now, so they can see their kids and grandkids enjoy the money with a new home. Financial gifts are especially beneficial now with higher mortgage rates.
Having a down payment larger than the minimum 5% can help you secure a lower rate. It also means your monthly mortgage payment will be smaller, which frees up money for repairs—and/or to pay off your principal earlier.
2. Secure a Pre-Approved Mortgage
Without a home of their own, first-time buyers need to demonstrate from the outset that they're financially prepared to take on a mortgage. Especially in housing markets where competition is fierce and listings disappear in a matter of days, you have to prove immediately that you're a potential buyer. The pre-approval process is essential for proving that.
When you secure a pre-approved mortgage, you'll have a letter testifying that you've been financially vetted to take out a home loan. This usually speeds the process along, not only because you've demonstrated you're a serious buyer, but because pre-approval often makes the actual mortgage underwriting go quicker. If rising rates have made a homeowner doubt a first-time buyer can purchase his house, pre-approval will assuage those fears.
3. Look for Cheaper or Short Sale Properties
You should never buy a property if you can't afford its monthly mortgage payment, but it's not a bad idea to buy a starter home substantially below your budget.
Rising rates may prompt you to consider cheaper or short sale properties—which for the last few years have been a little inaccessible. Investors have frequently outbid first-time homebuyers with cash-in-hand offers, but rates aren't the only thing rising. Property values are up throughout the nation, which has deterred investors from buying the least expensive listings. Historically, these have been ideal starter homes, and they're finally available again to many buyers. You'll still have to act quickly and make a competitive bid, but short sale properties are a nice solution to higher mortgage rates.
4. Stay Organized—and Keep Photocopies
Even before you've found a home you want to buy, you can assist your lender by keeping meticulous financial records. Having everything organized—your tax records, pay stubs, bank statements, etc.—and photocopied will ensure the underwriting process goes smoothly. While organization may not lower your mortgage rate, it can expedite the process, helping you lock in your rate before the average increases more.
Mortgage rates have been on the rise, which means first-time homebuyers would be wise to lock in today's rates before they increase any more. If you're ready to purchase your first home, or if you want to learn more about mortgage rates, we'd love to talk with you! Simply fill out our Fast Response form. Our experienced mortgage professionals are always happy to sit down and discuss your needs—and the kind of starter home you're wanting to buy.
Tags: first option mortgage, first time homebuyer, homebuyer, mortgage rates