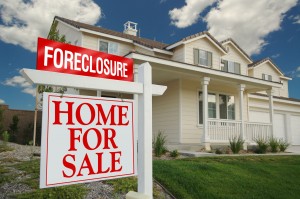 There are roughly 579,000 homes currently in the United States that are  either bank-owned or in foreclosure. Some real estate markets can represent an even larger percentage of these homes listed for sale. Aside from the fact that they are readily available, foreclosures can also be a great deal if you willing to put in a little legwork and have some patience during the purchase process.
If you are considering purchasing a foreclosed home, you will want to secure financing before you start pursuing a bank owned property for sale. Depending on what your goals are, there are several home loan options available that would be suitable for this type of purchase.
As Your Primary Residence
If you are purchasing a foreclosure as your primary residence, there are several government backed loan options such as an FHA loan that are available to you. FHA home loans are a great option because they offer low interest rates, require just 3.5% down, and have less stringent credit requirements than some of the other conventional loan options on the market.
As a Short Term Investment Property
If you are making the purchase with the intent to resell the home quickly, a good loan option to look at is an adjustable rate mortgage. These mortgages are typically offered with a low fixed introductory interest rate for an initial period. Once the initial period expires, it will begin to adjust to market rates on an ongoing basis.
Providing you are only planning on owning the home for a short period of time, you can take advantage of the low teaser rate and sell before it moves into the adjustment period. These types of shorter term loans can require less upfront investment and can offer a lower introductory rate than a traditional fixed rate loan.
As a Long Term Investment Property
If you are planning to purchase as a long term strategic investment then going with a 30-year fixed rate loan would be an excellent option to consider. Depending on how much you plan to put down and the current rental market in your area, you can potentially get most, if not all, of your monthly mortgage payment covered.
No matter why you are considering purchasing a foreclosed home, First Option Mortgage can help. To learn more, simply fill out our Fast Response form or give us a call at 855-300-4342.  Our experienced mortgage professionals would love to sit down and discuss your needs. We look forward to hearing from you!
Tags: 2013 Housing Trends, best time to buy a home, first option lending, first option mortgage, Home Loan, home mortgage, house hunting, Mortgage, mortgage education, Real Estate