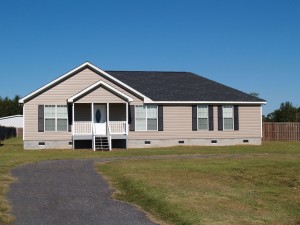 19 million people across the United States live in a manufactured home. These homes are becoming a trend for budget-conscious consumers interested in achieving the American Dream of homeownership. Not only are they an affordable option, but also many of today's manufactured homes are built using the latest in energy efficiency—and include high-end finishes that few would typically associate with a "mobile home".
These homes sound like an affordable alternative to purchasing a standardly constructed house, but oftentimes manufactured homes do not qualify for mainstream financing. Lenders can view a manufactured home as poor collateral that provides them with little protection if you were to default on your home loan. Another concern for lenders are the portability of manufactured homes. Even though few ever leave their initial resting site, they are tarnished by the image of mobility. Lenders, concerned that their collateral will roll away to a place unknown, can factor this into their decision-making process. But there are steps you can take to obtain a mortgage for a manufactured home.
1. Purchase Property
Lenders are far more likely to offer a Jacksonville mortgage on a manufactured home that is being placed on owned property. Oftentimes manufactured homes are purchased and moved to leased or rented spaces where they will stay providing the lease or rent is paid monthly. These leases tend to be short-term leases. Lenders worried about the longevity of the location and the lack of appreciation in land value are less likely to offer financing.
2. Find Out How Much You Need to Put Down
It depends on the lending institution, but typically you will need to put a higher percentage down on a manufactured home loan than would be required for a conventional loan. In order to avert risk, lenders request a higher down payment to make sure you as a buyer have more skin in the game and have something to lose if you default on your loan. Check around with local Jacksonville home lenders to compare and see who has the most competitive rates and what their down payment requirement are.
 3. Be Prepared for Higher Interest Rates
Loans for manufactured homes tend to carry a higher interest rate than your conventional loan. This is simply because there are fewer assets and less collateral at stake, and buyers of a manufactured home tend to be on a tighter budget.
If you are interested in speaking with one of our loan officers about applying for a Jacksonville mortgage or would like to discuss the types of programs we offer, simply fill out our Fast Response form or give our local Jacksonville branch a call at (904) 332-7800.   Our experienced Florida mortgage professionals are happy to sit down and discuss your needs. We look forward to hearing from you!
Tags: first option mortgage, Florida Mortgage, Florida Mortgage Lender, Jacksonville Mortgage, Jacksonville Mortgage Lender, Manufactured home mortgage