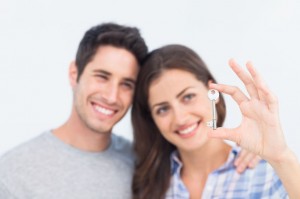 As the housing inventory shrinks throughout America, many individuals, especially first-time homebuyers, have been at a disadvantage when bidding on homes. Just when they find a listing within their budget, cash-in-hand investors have often snatched up the property. Some of that difficulty is about to be alleviated. A new rule in place for properties listed by Fannie Mae and Freddie Mac will now give homebuyers an advantage over investors: an exclusive period to bid on listings before investors.
Prominence of Investors
Without any financing requirements, investors have become prominent players in the market. In November of 2013, 42% of all residential sales went to investors, who, with cash ready, are among the most attractive buyers to anyone looking to sell quickly. To continue supporting the housing recovery, greater owner occupancy, and stability in neighborhoods, Fannie Mae and Freddie Mac officials want to increase the number of owner occupied home sales in the market by giving homebuyers a competitive edge over investors on properties in their possession.
20-Day Exclusive Rights
Fannie Mae and Freddie Mac still possess many homes from foreclosures during the recession. Fannie has almost 40,000 listings on its "HomePath" program; Freddie has over 10,000 houses in its similar "HomeSteps" program. Beginning January 2, both programs have started offering a 20-day "first look" period in which investors are barred from bidding on new property listings. This window can give homebuyers the opportunity to secure financing and win bids before investors have a chance to purchase the home with cash.
Stipulations and Incentives
In order to qualify for this 20-day exclusive period, homebuyers must commit to using the property as their primary residence for at least a year. The period also only applies to new properties, not homes listed months earlier on "HomePath" or "HomeSteps." On some properties, Fannie Mae and Freddie Mac offer financing deals, such as 5% down with no mortgage or appraisal costs. Additionally, some homes may be eligible for renovation mortgage—additional funds for improvement.
If you're a first-time homebuyer interested in taking advantage of this new rule, First Option can help you secure financing and with the help of our professional real estate partners and identify new properties on "HomePath" and "HomeSteps" programs that qualify for this fantastic homebuyer incentive. Both programs have listings in every state.
If you're interested in purchasing, refinancing, or learning more about mortgage rates, simply fill out our Fast Response form. Our experienced mortgage professionals would love to sit down and discuss your needs. We look forward to hearing from you!
Tags: 2014 Housing Trends, 2014 Lending Guidelines, FHA Loan, first time home buyer, government assistance, house hunting, mortgage interest rates, Real Estate