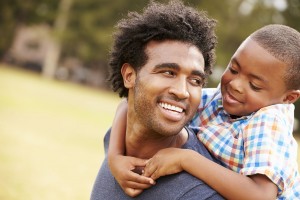 Father's Day is your yearly chance to appreciate the dad in your life, old or young, new or expectant. Because there are so many different things you can do with pops on his special day, we've broken the types of dad down into four distinct categories. Your dad might fit into one or all of them. Like any holiday, it's the thought that counts. If your dad doesn't fit into any of these categories, remember: A mortgage down payment is always a great gift idea!
The sports lover
Sporty Dad is all about — you guessed it — sports! Depending on the season and the type of sport, Father's Day is a perfect opportunity to take Dad out to his game of choice. If his favorite team isn't in town or in season, head over to a sports apparel store and get him something that'll let him show his pride. Celebrating Sporty Dad doesn't have to just be about watching sports, though. You can get out and play too! Consider signing up for an intramural league or just head outside for a friendly game of catch.
DIYer
The DIYer likes to get his hands dirty. Is there a project he's been itching to start? Why not make it easier on him? Go to the local hardware store and get a gift card, or find a book on the subject to give as a gift. You can also offer up your services on a project for a day. It's always helpful to have a second pair of hands whenever you're trying to get a tough project done. For the tinkerer with nonspecific interests, you'll find plenty of project opportunities on sites like Pinterest. If Dad is really into seeing what the maker community is up to, get him a subscription to "Make" magazine.
Relaxed
Maybe your dad works hard, and would just like a day of relaxation and rest on Father's Day. No fear! You can make his special day super relaxing. Maybe order takeout of his favorite foods, and just spend the entire day taking in a season of his favorite TV show or playing some video games. We've got a great guide to a summer staycation that you can draw ideas from. You can also go the full-on relaxation route. Spas can be a great time for the whole family. Take Dad in to get a massage, and maybe even a pedicure!
Intelluctual
Similar to Relaxed Dad, Intellectual Dad likes to spend his time reading about different things and exploring new topics. Try offhandedly asking what books he's looking forward to reading, and go pick up a few of them from the bookstore. Or, for a more hands-on approach to knowledge, maybe get some tickets to see an event at the local museum.
For the more adventurous dad, see if you can find some volunteer or amateur archaeology societies or birdwatching groups in the area, and go attend an event with him.
Remember, Father's Day isn't about gifts or events — it's about showing your dad that he's appreciated and that you care about him. Whatever you choose to do to celebrate your father is the right choice.
Do you have any cool and creative ideas for Father's Day? We want to hear about them! Let us know on Twitter or Facebook. And if you or Dad are thinking about buying a house, let us know using our quick response form. Happy Father's Day!
Tags: Everyday Living