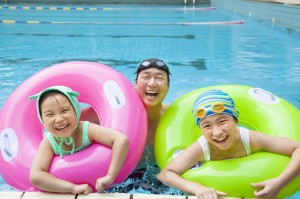 Summer is well over a month away, even if it feels like it's already arrived in most of the country. With kids out of school and enticing warm weather outside, summer is a time of lake houses and camp, road trips and water parks. You don't have to plan a huge vacation, though, to enjoy the season. If you're looking for something fun for a weekend or single afternoon, consider one of these great family activities for the summer.
1. Neighborhood Exploration
Buy a paper map of your town and draw a grid around your home and neighborhood. Once or twice a week, drive or walk to a new square with your kids, and be sure to document the place with your iPhone. Go into stores; overturn rocks. Even if they're streets you drive through every day, you'll see something new on foot and if you're all attentive to the details. By the end of the summer, you and your family will know your town better, and you'll make a lot of memories in the process.
2. Weekly Library Visits
Especially when it's the hottest part of the day, all you want to do is stay inside and watch TV. As an alternative, plan weekly library visits. In addition to finding individual books, regularly check out a novel you can all read together every evening. You can keep it short and light with Nancy Drew or the Hardy Boys—or tackle someone like J.R.R. Tolkien.
3. Home Improvement
If you're hoping to sell your home in the future or just wanting to settle in more, summer is a great time to undertake home improvement projects. You can enlist your kids for a lot of these, like DIY projects for your yard and painting a room. If you do these as a family, everyone can enjoy a sense of accomplishment and ownership.
4. New Recipes
Your kids may be out of school, but you can all learn new things throughout the summer. Try making a new recipe every Friday night, and pick out the meal online earlier in the week with your kids. By the end of the summer, you'll have expanded your repertoire of dishes and taught your kids some kitchen basics they'll use for the rest of their lives.
5. "Camp Out" Movie
Drive-in theaters are rare to find these days. If you can find one near you, go! There's something magically nostalgic about parking your car and watching a movie beside a hundred other people. If not, recreate the experience yourself in the backyard. Make some popcorn, pick up some candy at your local gas station, and spread a blanket out on the grass. Using a projector is great if you can borrow one, but even huddled around a laptop as the stars come out can be just as fun.
If one of your plans for the summer involves purchasing or refinancing, or you just want to learn more about our mortgage rates, simply fill out our Fast Response form. Our experienced mortgage professionals would love to sit down and discuss your needs. We look forward to hearing from you!
Tags: Everyday Living, Selling Your Home