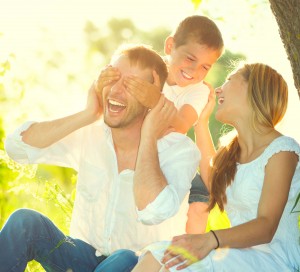 Every August is family fun month — a great opportunity to appreciate the loved ones in your life by getting together for fun family activities! If our guide to picnic ideas wasn't enough, we have plenty of great ideas that will make for weekends filled with family fun.
Explore the great outdoors
Summer might be winding down, but there's still time to get out and experience the outdoors before they become too chilly for family fun. If you're looking for potential camping spots, Recreation.gov has a great search feature to find a good one. If you're looking for more of a one-off outdoor activity, try the National Wildlife Federation's activity finder.  
Dive in!
It's still pretty hot out in many places, but that doesn't mean you can't take advantage! A trip to the pool or the closest lake could be just the treat for an afternoon of fun! And if your family is feeling extra adventurous before the summer ends, a trip to the beach can be the perfect way to end a summer break!  If you happen to be in Atlanta, check out one of these 7 refreshing lake beaches in the Georgia area!
Take a Day Trip
If adventure is more your speed, take the family on a day trip to the closest amusement park or waterpark. Maybe not that adventurous? A trip to the zoo or a nearby park could be just the ticket to shake things up! Not sure where the closest one is? The possibilities for a day trip are endless, so pick something your entire outing can enjoy. You might even top it all off with a trip out for ice cream!
Organize an at-home adventure
Maybe you're ready for a more lowkey time at home with the family to appreciate  that new extra room, or you might not feel like getting out and going somewhere. There are all sorts of thins to do at home that can make for an exciting (or quiet!) adventure. Building a fort to just ordering pizza and enjoying a movie with the family are just some of the things you can think of. Just make sure to think beyond the TV or video games!
Move your troubles away!
Whatever you decide to do, shake things up and get active! Fishing, hiking, and skating are a few outdoor activities that can highlight the weekend fun! Some of these activities you can even do outside. There are few things better in life than strapping on some skates and pulling through tight turns to some late-80s rock.
Cultivate a love for learning
Who says learning can't be fun? Take a weekend pit stop at the local museum. If you live in a larger area, you'll likely have a number of options. Tailor your choices to the interests of your family. If your family is into the natural world and animals, maybe go to a science museum or zoo. Art museums can sometimes be a tough sell, but can be a worthwhile weekend trip.
For something more family-related, cooking a meal together or take a day out to make a talent show could be a great time to spend more time with one another!
Whatever it is you end your summer with, hopefully we've given you some big ideas to make Family Fun Month the best one so far. Make sure to share any tips and tricks you've gathered over the years with us on Facebook or Twitter. If you're looking to make a new home part of your family's fun, contact us to get started on your journey!