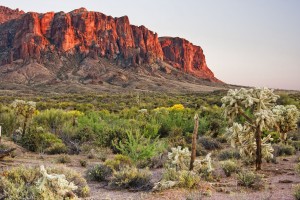 There's nothing better than spiriting yourself away for a sunny weekend adventure, especially when the temperatures start falling faster than the leaves on the trees. We've already shown you the hidden beauty of Edina, Minnesota, and Chattanooga, Tennessee, during the summertime. Now get ready for our Fall Weekend Getaway Guide as we showcase all the amazing things to see and do in Phoenix, Arizona during autumn.
With its year-round sunshine and warm weather, Phoenix is the perfect destination for romantic getaways, family vacations, and sightseeing explorations. The capital of Arizona — as well as the sixth-largest city in the U.S. — Phoenix has more land designated for public parks and preserves than any other major city in the nation. Along with its natural desert beauty and ideal climate, Phoenix also offers plenty of big-city delights, resorts, shopping, dining, golf, museums, and so much more. Here are some of our favorite things to do.
Have a grand adventure
The Grand Canyon is the most famous national landmark in Arizona if not the entire country, and the only way to truly see it in all its expansive glory is by hot air balloon. Or, if heights aren't your thing, the second best way to experience the mighty canyon is on a whitewater rafting tour.
Take in some tee time
There is no shortage of stunning golf courses in Phoenix, with many of them designed by professional PGA players. From the narrow fairways and spectacular views of the Gold Canyon Golf Resort to the serene, first-class courses of the We-Ko-Pa Golf Club, this city is definitely a golfer's slice of heaven.
Dine in the desert
The best part of any weekend getaway is discovering a hidden little gem of a restaurant that only the locals know about. In our opinion, Tarbell's fits that bill. At this chic Camelback Corridor hotspot, chef-owner Mark Tarbell puts a deliciously upscale spin on traditional American favorites. Or, for a less-formal, family-friendly spot, try MacAlpine's Diner & Soda Fountain. Their vintage décor, classic comfort foods, and fresh pies will have you wanting to retire in Phoenix before you even get the check.
See some history
Built in 1929, the historic Orpheum Theater sits right in the center of downtown Phoenix. After recently undergoing a $14 million renovation, this sublime spot is the ideal place to catch an off-Broadway show, see the symphony, or simply drop in for a free, guided tour of its gorgeous art-deco architecture.
Hike the sights
Phoenix is at its most beautiful in the fall, when it boasts lush yellows, electric oranges, and radiant reds painted across its desert landscapes at sunset and sunrise. Whether you're a hiker, photographer, or simply a fan of breathtaking sights, you have to take a trek across the pristine trails of the Phoenix Mountains Preserve or let yourself meander around the peaceful ponds and critter-filled creeks of the Tres Rios Wetlands.
If you'd like to turn your Arizona weekend into something a little more permanent, contact our mortgage experts at our Phoenix branch. And be sure to let us know of any great spots or destinations we might have missed on Twitter or Facebook, too!
Tags: arizona, autumn, guide, phoenix, vacation