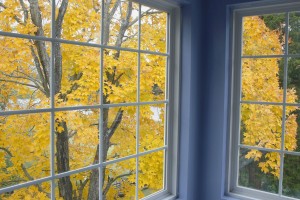 Fall is a time of change – the leaves turn, kids go back to school, and the weather becomes damp and cool. For homeowners, this change in weather means the first few weeks of fall are crucial for the maintenance of what is likely your most important investment.
How do you keep your home as cozy as your favorite sweater during the upcoming wet, chilly months?
Staying Warm
Reverse the ceiling fans – after you turn on the heat for the season, reverse the direction of your ceiling fan. A clockwise rotation will help prevent warm air from rising.
Have your heater inspected – have your heating unit professionally inspected by a technician. The peace of mind knowing your system is clean, safe, and efficient is worth the $100 inspection price tag.
Change your furnace filter – furnace filter manufacturers suggest changing the filter every 90 days, but changing them once a month during your furnace's busy season will pay off. In the fall and winter, consider aligning the filter change with the arrival of your electric bill.
Clean your fireplace – nothing is nicer than a clean, safe fire in the hearth during chilly seasons. Sweep the fireplace yourself, and have a professional chimney sweep clean built-up soot and any potential off-season birds nests from the chimney.
Address any air leaks – up to 50 percent of a home's heat loss is due to inadequate sealing. You can check for leaks yourself on a cold day by holding your hand around the edges of access hatches and external doors and windows. Tighten the sealing on any that put off a breeze.
Clean and vacuum heating ducts, grills and registers – dust has been accumulating in these spaces during the summer. A good cleaning will keep vents from being blocked, keep debris away from hot air and prevent a dust cloud when the heat is turned on for the first time.
Staying Dry
Keeping your home dry will not only save you money on your energy costs and protect your home from unnecessary repairs, but when it comes time to sell your home or refinance, the condition of your home will affect your bottom line. Be sure to do the following regularly during the fall and winter months to protect your investment:
Check your basement for dampness – a damp basement can lead to interior property loss, health issues and long-term damage to your home's value. Before the rain and snow hit, make sure all basement windows and doors have a water-tight seal.
Clean your rain gutters – your gutters are allies in the mission to keep your home dry! Gutters clogged with leaves and sticks may cause rainwater to pour onto your home and its foundation. At the beginning of the fall season, clear the rain gutters of any debris and adjust the drainpipes so rain is directed away from your home.
Staying Safe

Colder months are when the majority of house fires take place. In order to lower chances of house fire:
Examine power cords on heating devices that haven't been used since last winter.
Review the garage for any flammable liquids, such as paint thinner, sealants, and gas. Remove and dispose responsibly.
Check fire extinguishers and replace any that have expired.
Test fire alarms and replace any low or dead batteries.
Ensure that nothing is stored near the furnace.
If you're planning to purchase, refinance, or want to learn more about our mortgage rates, simply fill out our Fast Response form or give First Option Mortgage a call at 888-644-1999.  Our experienced mortgage professionals would love to sit down and discuss your needs. We look forward to hearing from you!
Tags: Everyday Living, fall maintenance, first option lending, first option mortgage, Home and family, maintenance