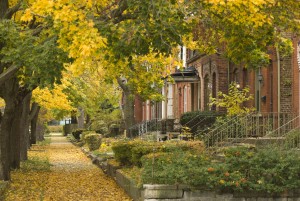 As we say goodbye to summer and hello to fall, you might consider making some changes. For many homeowners, home improvements are a great way to start. Outdoor projects could be too hot in the summer or not practical with all the family cooped away. Suddenly fall is here and you have all time and freedom to turn your house into what you like!
But where do you begin? Have no fear, because we picked out a handful of projects you can have finished by the time winter comes around.
Show Me the Light
Fall brings colder climates, and with dipping temperatures you'll be begging for a little extra light. Open your house up with updated, clear windows. Maybe even consider adding in a skylight if you're looking to take advantage of these last few sunny days!
If you still want to maintain a pleasant outdoor atmosphere, install some festive, seasonal lights. All you need is an outlet, some stapling, and a fixture. Luminarias for special occasions could also serve as a quick boost in atmosphere.
Even on dreary days, a few additions to bring in the natural light will save you tons on electric bills, and even add some spirit into the home!
Decorate!
Everyone knows fall is the best time of the year to decorate, and there are so many ways to tastefully trim your house for fall! Cornucopias, pumpkins, gourds, and cone wreaths will help ease your house gracefully into fall and winter. Set them up as table accessories or centerpieces. Be creative!
Halloween is right around the corner. Trick your outdoors out with spooky novelties and get in the spirit of All Hollow's Eve! You might even consider renovating and replacing your outdoor furniture this time of year. Your patio will turn from a cold, unoccupied area into a cool, comfortable spot to chill out.
The trick is to be creative and to think rustic! That old-timey feel will instill your house with all the positive vibes that come in the colder months, and keep a positive outlook for the people living in it.
Paint the House Red
Well, not literally! Painting parts of your home as the seasons change will alter the feel of your home immensely, giving you a nice change of pace. Some painting projects take no time at all, such as painting the front door of your house, or adding a new coat of paint to the living room.
This is a project that you could start on one of the first days of fall, when the weather is nice and cool, allowing paint to dry more quickly. Once you start with this project, you might start considering how the rest of your house flows!
Is It Drafty In Here?
Speaking of doors, you might feel a sudden chill as fall breezes around the corner. You might want to consider insulating your house using simple, effective methods. Check your doors to make sure there are no cracks or empty spaces allowing the cold, outside air to seep into your house. It might be just a crack, but a faulty door can drastically alter the temperature in your home.
The same goes for heating units. The last thing a homeowner wants is to be without proper heating in the home. Inspect your heating and cooling units. If they look like they could do with some repairs or even replacement, call a technician. This DIY doesn't even get your hands dirty!
Fall brings many opportunities around with it- times spent with family and the changing seasons, and maybe even some DIY projects and home improvement. If you're looking for more of a change in scenery, we can help. Get in touch with us to talk about mortgage options for you today. And contact us on Facebook or Twitter with your fall DIY ideas!