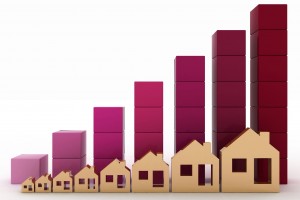 Home values keep increasing, and according to an expansive panel of economists, the rise shows no sign in stopping. Leading real estate information marketplace,
Zillow Inc.
, conducts a survey four times a year, gathering data from economists to forecast housing trends. Since the real estate market recovery began, things have looked up. For many months, everyone has predicted housing prices to increase steadily. New data shows that trend will continue—for years!
Median Home Values
One of the major figures economists examine is the median home values in the United States. Already in 2013, median values have risen $4,200 since the end of 2012, a huge increase in just six months. Economists predict by the end of 2013, values will have increased 6.7%. This is comforting news for homeowners struggling with equity, but it isn't sustainable growth. Median home values are predicted to grow but at a slower, more stable rate, averaging 3-4% throughout the next four years.
Growth Factors
A lot of factors contribute to this growth, including low mortgage rates, which continue to incentivize new home buyers. As the mortgage market allows more people to buy homes, the classic economic formula comes into play: High Demand, Low Supply. Since the end of the housing market boom, inventory is lower and can't meet the needs of so many potential buyers. This has led to the huge increase in home values in 2013, but as the market stabilizes and new home inventory becomes available, the increase will slow. If home values increase 3-4%, as economists predict, the market will emerge stronger than ever before.
Historic Highs
Unlike the housing market bubble from the last decade, new findings predict gradual—and stable—growth. Even after the tremendous increase of 2013 slows, median home values are on track to reach historic highs by the end of 2017. Current trends show that by 2017, home values will be very close to the previous highs from May 2007. A decade later and the result of sustainable growth, this is good news for homeowners, and the economy in general.
Other good news is that mortgage rates show no sign of reaching untenable highs. 88% of the same panel of economists agreed that mortgage rates would pose no threat to the housing market recovery. Rates are low and should remain so throughout the near future.
If you're planning to purchase, refinance, or want to learn more about our mortgage rates, simply fill out our Fast Response form or give First Option Mortgage a call at 888-644-1999.  Our experienced mortgage professionals would love to sit down and discuss your needs. We look forward to hearing from you!
Tags: 2013 home prices, 2013 Housing Trends, best time to buy a home, first time home buyer, home mortgage, housing market statistics, mortgage interest rates