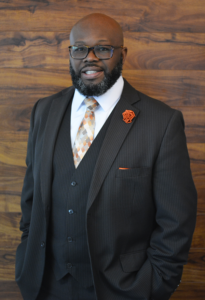 Paul Perkins recently joined First Option Mortgage as Vice President of Business Development. With a focus on recruitment and team management, Paul utilizes his varied and exciting background to secure valuable, effective talent.
Following 22 years of recruitment experience, Paul has witnessed the mortgage industry firsthand in positions ranging from Senior Loan Originator to Branch Manager. He's ensured the success of countless financial and military institutions with his invaluable skill set.
Paul considers recruitment first a responsibility and second a challenge. His goal is to find unparalleled mortgage professionals to pair up with customers. In a world of confusing terms, fees, and figures, what exactly does that mean? What does it take to be the right kind of loan originator?
"I look for honesty and sincerity. Those are the most important characteristics that determine a customer's satisfaction. My son just purchased his first home. He's going through all these appraisals and fees, filling out everything from the comfort of his home."
It's convenient to have an online application to fill out by yourself, but beyond that is where Paul's expertise and recruitment comes into play.
According to Paul, a right originator is key. Without one a customer's experience can be a nightmare. "If a customer doesn't hear from their mortgage professional more than once a week, they start to get that pit in their stomach. They're thinking 'why haven't I heard from them, what do I have to do next? What is going wrong?'"
"My son started wondering what escrow or closing costs are, but he hasn't spoken to the expert overseeing his loan. There were times where I had to sit him down and say 'it's going to be okay.' Customers crave that honest, seamless loan closing, and that only exists with a comfortable and confident professional behind the wheel."
Paul learned about this type of customer service firsthand. When Paul and his wife purchased their first home their loan originator started them off with house hunting. With no budget in place and zero questions answered, Paul started looking at houses priced from $340,000 to $800,000. Meanwhile, they were left in the dark while the originator silently worked through their loan.
The nightmare started when they settled on their dream house. Money was put down, fees paid, but the house inspection failed. "That dream of owning our first home immediately soured. We eventually found a better house, but by then the dream my wife and I shared was ruined. Every talk with our Loan Originator was a battle. We didn't know what to bring to our closing—if we needed money or more documents. We had to bring everything just to be sure!"
"The moral of the story is this. We could have had the best experience ever behind the scenes, but the customer will never know it unless you help them along the journey. Without that, they leave feeling cheated. That's how crucial customer satisfaction is. That's why I'm so passionate about my work. Both the good and bad experiences, having the ability to communicate and engage with a customer can help you better yourself every day. That's really all you need to succeed."
Paul says the best of the best are those that can accomplish something that no one else can, no matter the professional. We're all very excited to have Paul Perkins on board! If you'd like to learn how you can join the First Option Family, take the wheel and apply today!
Tags: Careers, Employee Spotlight