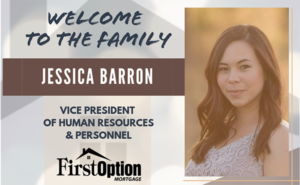 Jessica Barron carries valuable insight to the mortgage industry through nearly a decade of work in workforce development. This month, First Option Mortgage is excited to welcome Jessica as Vice President of Human Resources and Personnel Development.
Previously, Jessica began her career working in administration and setup, handling everything from trailing docs to user account management. As she made her transition into human resources, Jessica witnessed first hand how personnel could grow from a single office to a corporation all across the country. With the industry's aging and adapting, Jessica has learned to wear many different hats to stay ahead.
"The mortgage industry is so unique. From compensation regulation and licensing requirements to borrower expectations and changes in technology, we are constantly facing new challenges. The exciting part is that with each challenge comes new opportunity, and that's what I'm passionate about. I'm all about adapting and improving things so that we can keep ahead of the curve."
Jessica started her career in the mortgage industry just after the crash, a time when the 2010 Dodd-Frank Consumer Protection Act was just being rolled out. Among a great deal of things, the Consumer Protection Act established the Consumer Financial Protection Bureau, an agency responsible with reviewing mortgage products and services for borrower protection. The Affordable Care Act was rolling out new insurance requirements.
"That year marked an interesting shift for the industry. Compliance and healthcare were in the spotlight, and some banks were closing their doors in expectation. Some homeowners may not know this, but in the early 2000's people would verify their income verbally. You could say 'I make $500,000 and my friend can confirm that.' Banks would consider that proof of income, which is crazy."
To Jessica, trustworthiness and transparency are a key points of success in the industry. For Human Resources and Lending, the homebuying process revolves around a friendly face and having someone there you can trust.
"If it wasn't for our loan officers, the homebuying process would feel intimidating and impossible. Some qualifying buyers may not even know all the options available! The most important thing I can do is ensure we have the most educated, personable workforce available."
Sometimes, people want different things. Some people want the option to do the research themselves, submitting requirements online through an automated process.
"And that's okay! It's one of the greatest things I love about First Option. A customer can apply in the comfort of their own home, but if they need that extra bit of help there are professionals here to help. They have that extra bit of information, and a dedicated level of service to find the perfect option."
Jessica brings up an interesting change between the age of loan officers to the age of homebuyers. In a 2017 study from the Stratmor Group the average age of loan officers has increased every year, while the average age of homebuyers has steadily decreased.
"That's what makes Human Resources so remarkable in this industry. We're creating this force today that's going to foresee the obstacles of tomorrow. It's about being competitive in the mix of all these changes. It's about recruiting new people, and keeping those employees that make working at First Option so great. It's a forest for the trees. Everything affects the experience, and a lot of it has to do with who you work with. I may not be focused on the forest, but my trees have roots that can alter everything."
Tags: Employee Spotlight