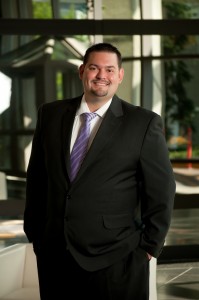 We are proud of every First Option employee. Together, we change lives every day. Because of the pride we have in our team members, we want to share a little more about them with you. In this employee spotlight series, one member from each of our nine branches will be highlighted.
This spotlight is of our Indianapolis team member, Dustan Ingram. We asked Dustan to tell us a little bit about himself. His answers are below.
Where were you born, Dustan?
Milan, Indiana
Just for fun.. how tall are you?
6'1″
How many years have you been at First Option?
Three
What is your favorite animal?
Aquarium fish
Why fish?
They're very calming to watch.
What was your favorite TV show growing up?
Married With Children
What do you like most about Indianapolis?
I love the layout of the city… and of course, I'm a huge Colts fan.
Who is your biggest hero?
My father, no question.
How did you end up working at First Option?
I had family and friends who worked here and seemed to genuinely love their job. After hearing so many great things about the company, I decided to check it out for myself.
What do you love most about your job?
Helping people achieve their dream of home ownership and hearing about how their lives have changed after they own a home.
What is your greatest memory at First Option so far?
The first company Christmas party I attended. It made me realize how much First Option cared for its employees and treated them like family.
Give us one parting piece of advice for Indianapolis homebuyers.
The best part about home ownership are the memories that are made with your family. I have owned properties for many years, but none truly felt like home until I started raising my kids there. If you are thinking about buying, just do it. I promise you and your family won't regret the decision.
Tags: Employee Spotlight