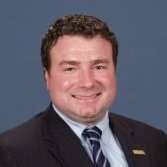 We are proud of every First Option employee. Together, we change lives every day. Because of the pride we have in our team members, we want to share a little more about them with you. In this employee spotlight series, one member from each of our nine branches will be highlighted.
This spotlight is of our Columbus team member, Sam Cronin. We asked Sam to tell us a little bit about himself. His answers are below.
Where are you from, Sam?
Zanesville, Ohio
Just for fun… how tall are you?
5'10"
How long have you been with First Option?
Just three weeks!
What is your favorite animal?
The lion.
Why lions?
They're the king of the jungle.
What was your favorite TV show growing up?
College Football Gameday.
Nice choice! Tell us – what do you like most about Columbus?
There are excellent restaurants all over town.
Who's your hero? Name whoever comes to mind first.
Joe Montana.
We're sensing a theme here. How did you end up working at First Option?
I had heard great things about First Option Ohio and knew the Columbus branch manager. It ended up being a great fit.
What do you love about your job?
I love that I help people achieve the American Dream.
What is your greatest memory at First Option so far?
My first day meeting all of the great people in my branch.
Give us one parting piece of advice for homebuyers in Ohio.
The current market conditions make it one of the best times in history to purchase a home. Find a professional loan officer such as myself and strike while this iron is hot.
Tags: Employee Spotlight