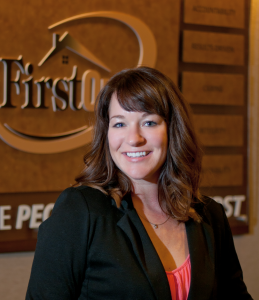 We're proud of the hard work every First Option employee does. Together, we change lives every day. To show our appreciation, we are launching an "employee spotlight" series to showcase one employee from each branch.
Today, we're getting to know Jessica Callahan of our Indianapolis branch.
Where are you from, Jessica?
Evansville, Indiana
Just for fun… how tall are you?
5'7″ and 3/4″ (The 3/4 is VERY important).
How many years have you worked at First Option?
Seven
What is your favorite animal?
My dog, Bella
Aw… why Bella?
She's my first born!
Too cute. What was your favorite TV show growing up?
Full House! I bet you can guess my age now. 😉
What's your favorite thing about Indianapolis?
My family recently moved here, and now I get to enjoy a great city with the people I love the most.
Who is your hero? Name the first person who comes to mind.
My mom. She's the best person I've ever known, and probably the best I ever will know.
How did you end up working at First Option?
A friend of a friend said I should give it a shot – I wasn't in love with my current job, so in 2007 I started at First Option and haven't looked back since.
What do you love most about your job?
I get to help people. I help clients buy or refinance their home or fix their credit. I help realtors grow their business and become even more successful. I problem-solve with co-workers all the time. That is what makes me feel best about what I come here to do every day.
What is your greatest memory at First Option so far?
A few years ago, our office got really big into contests – eating contests, push-up contests, feats of strength. That was absolutely hilarious. We made some really fun memories.
Give us your best advice for Indianapolis homebuyers.
Take a look at all of the neighborhood Indy has to offer. There are so many great homes in Avon, on the South Side, Fishers, Westfield, Broad Ripple and Meridian-Kessler, just to name a few. Don't lock yourself in to one side of town – there are so many awesome areas to check out!
Tags: Employee Spotlight, first option mortgage, Indiana Mortgage, indianapolis mortgage