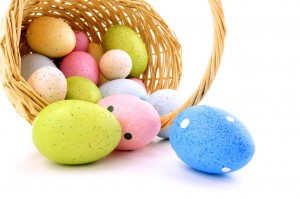 Easter is a few weeks away and you can get a head start on this holiday of rejuvenation by rethinking some of the more traditional techniques for coloring Easter eggs. By using nature's own tones from fruits, vegetables, and spices, you can create a beautiful bounty of egg-ceptional eggs– perfect for all your decorating, hiding, and noshing needs.
The Fun Way to Dye Eggs
Generally speaking, there are two methods used when dyeing eggs; cold dipping and hot boiling. Cold dipping produces subtler, more luminous shades and is usually the preferred method for applying multiple colors to the same egg. Hot boiling produces much more deep shades, but these eggs are for decoration only, not eating. If you prefer being able to eat your delicious creations after they've made their stunning Easter Sunday debut, cold dipping is recommended.
Try this recipe for Naturally Dyed Eggs
Ingredients:
2 cups chopped, raw beets (for pink/red), OR
2 cups pulped blueberries (for blue/purple), OR
1 tsp ground turmeric (for yellow)
1 tsp white vinegar
Hard-boiled free range chicken eggs
Method:
Place your choice of coloring ingredients (beets, blueberries, turmeric, etc.) into a small pot with 2 cups water and bring to a boil. Cover, reduce heat to medium-low, and simmer for 10 minutes. Strain through a fine mesh sieve, discarding any solids, and then stir in the vinegar. Let cool until warm or room temperature. To color eggs, submerge in dye, turning often for even coating, until desired color is reached. For more colors, dye eggs first in one color, then wipe dry and dye in a second color. Or try submerging just half at a time (length wise) and then other half for a two-tone effect. For tips on hard-boiling, visit here.
Want even more variety? 
Try out some of these options for creating every color of the spectrum.  Be sure your work area is sufficiently covered before you start going wild, as this project will invariably be a bit chaotic (in a good way!)
Purple – Hibiscus tea
Blue/Lavender – Red cabbage, blackberries, purple or red grape juice
Green – Spinach or kale leaves
Brown/Beige – Coffee, tea, walnuts, black pepper
Yellow – Lemon or orange peels, carrots, celery seed
Orange – Paprika, cumin, chili powder, yellow onion skins
Red/Pink – Cranberries, raspberries, radishes
If you looking for a new home or to refinance and want to find out more about the loan programs we offer, simply fill out our Fast Response form or give us a call at 888-644-1999. Our experienced mortgage professionals would love to discuss your needs. We can't wait to hear from you!
Tags: Everyday Living, first option lending, first option mortgage, Home Decor, Lifestyle