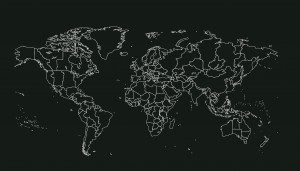 Ideally, the art on your walls should change with your age. Kids hang up craft projects from school; teenagers pin up photos and magazine collages; and college students rely on posters to decorate their spaces. Wall art can define you, and it can make or break the ambience of a new home. It can also be extremely expensive. A good, original piece of art can cost anywhere from $500-15,000, but you don't have to go broke to decorate your walls. DIY wall art can have as positive an effect on a home as a professional painting, and these ideas may inspire you to try and see for yourself.
Chalk Wall
Whether you have kids who love to doodle or artistic friends who wouldn't mind sketching a design for you, a chalk wall can make your home creative and beautiful—and at next-to-no cost. It only requires a can of chalkboard paint from your local craft or paint store and an hour spent painting a wall or a board to hang on your wall. All you need after that is some colored or white chalk, creative inspiration, and/or design stencils to turn your chalk wall into a piece of art.
Literary Wallpaper
If you've just bought a house covered in drab, monotonous wallpaper, you're probably tempted to rip it all out or replace it with a newer pattern. There's a third solution that can establish a more unique ambiance for your home: wallpapered book pages. A clean wall, pages cut from a few dime-store paperbacks, and a solution of 3 parts water, 1 part Elmer's glue can in a few hours become a piece of literary wall art. If you're a novel reader, it's a beautiful way to show off your love of books, but the same tactic works with field guide illustrations, machinery blueprints, and song sheets.
Memento Maps
At least a third of all Americans have lived in more than one state, and many more have other places and countries they consider to be significant to their lives. Maps and travel mementos can beautify your home and honor places you've been—or have always wanted to visit. Old atlases are great resources to cut out maps of states or counties you've lived in, and shadowboxes are an inexpensive way to display them. If you spent time in another country and have postcards, ID cards, or other memorabilia from there, they're great additions to turn a map into a piece of wall art.
Life Quotes
Many of us have quotes we live by, and wall art is a great way to display them. Long passages and essays can fill a wall, while lines of poetry and bits of wisdom can be written on boards or painted on glass frames. Displaying these words so prominently can serve as daily inspiration, and it could inspire your guests too.
If you're planning to purchase, refinance, or learn more about mortgage rates, simply fill out our Fast Response form or give us a call at 888-644-1999.  Our experienced mortgage professionals would love to sit down and discuss your needs. We look forward to hearing from you!
Tags: buying a new home, DIY, Everyday Living, first option lending, first option mortgage, first time home buyer