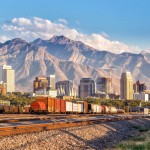 We've already uncovered the hidden gems in cities like
Denver
,
Jacksonville
, and
Indianapolis
. Now we're at it again with Utah's capital city and biggest metropolitan area. Salt Lake City is arguably the most idiosyncratic city in the U.S. It features some of the most interesting attractions in the country, and if you haven't already, you should definitely take a trip to see all the amazing things the Crossroads of the West has to offer.
Publik Coffee and Publik Kitchen
To start out, get brunch at Publik Kitchen. Or if you're short on time, grab a pastry and a hot drink at the roastery. Salt Lake City might not be world-famous for its coffee, but Publik is certainly a hidden gem in this great city. Publik Coffee is an SLC staple that just opened a second location in February. The new location, Publik Kitchen, has a full food menu with breakfast and brunch staples. They just opened an outdoor patio, too, so get there early on weekend mornings to grab a spot in the sun.
Wheeler Farm
Next, head out to Wheeler Farm. Though it's still a working farm, the place is preserved as if frozen in time in the late 19th century. The original blacksmith shop is still there and open to visitors. You can also tour the old farmhouse, take a wagon ride, and even take part in a horse riding camp during the summer. Admission to the farm itself is free, but if you want to participate in some of the other fascinating activities (like learning to milk a cow by hand), it'll cost you a little extra.
Proper Burger and Avenues Proper
If you're not from Utah, you may have heard that you can't get full-strength beer in Salt Lake City. That's only partially true. While draft beer has to be 4% ABV (or less) to be sold in restaurants and bars, you can find stronger bottled brews in many of Utah's pubs and beer bars. And just because there's an ordinance limiting alcohol in beer, that doesn't mean there's a lack of breweries or good spots to get a pint and some lunch. When you're hungry, head to one of Proper Brewing's locations. Depending on your mood, you may want Proper Burger or the more bistro-style Avenues Proper. Proper Burger is located right next to Proper Brewing and serves up a menu of burgers, shakes, salads, and (of course) beer. At Avenues Proper in SLC's historic Avenues neighborhood, you'll find a more diverse cocktail and food menu (including mussels, gnocchi, and their famous rarebit frites), making for the perfect night on the town.
The Living Room Trail
You can't visit or live in Salt Lake without checking out the Living Room Trail at least once. Set above the University of Utah's sprawling campus, it's a three-mile trek with some elevation, which makes it an adventure for those ready for a good workout. Dogs are also welcome to make the journey off-leash. Some parts of the hike are a bit steep, but once you make it to the top, you'll be glad you made the effort. The view of the Salt Lake Valley from the top is phenomenal, made all the better by the flat rocks painstakingly arranged into armchair formations (hence the trail's name).
Gilgal Sculpture Garden
No words describe exactly the odd beauty in the Gilgal Sculpture Garden. This spot is quite possibly the city's best-kept secret. The garden is tucked away so well in a residential neighborhood that many longtime residents who live just blocks away don't even know it exists. All 12 larger original pieces and 70+ carvings in the garden were conceived of and constructed by one man — Thomas Battersby Child, Jr. — in the mid-20th century. The garden is free to tour, and is open from 8 a.m. to 8 p.m. during the spring and summer months, and from 8 a.m. to 5 p.m. through fall and winter.
Everyone should explore Salt Lake City at some point in their lives. Whether you're just visiting or making it your new home, take the time to do a little adventuring off the beaten path (or on the beaten path, if you're doing the Living Room hike). Are you looking to move to Utah? Get in touch with our Salt Lake City branch today!