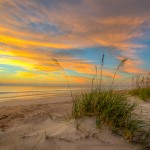 Between the beaches, rivers, and miles (upon miles) of protected wilderness, Jacksonville's gorgeous natural landscape is a treasure trove of fun. If you're planning to spend some time in Florida's First Coast — or thinking of making it your new home — be sure to get out in the sunshine and check out these favorite local pastimes.  
Meet new feathered friends at B.E.A.K.S.
B.E.A.K.S. Wildlife Sanctuary started as a one-time, backyard project in 1980 when Cindy Mosling nursed an injured seagull back to health. These days, the bird sanctuary on Big Talbot Island (just 20 miles east of downtown) is home to over 4,000 birds, many of which are rehabilitated and released back into the wild. The sanctuary also offers classes about these incredible creatures to schools and other groups, as well as teaching them about nature preservation.
Go kayaking on Amelia Island
Amelia Island is the kind of paradise you have to see to believe. And kayaking along the many waterways (think rivers, swamps, salt marshes, and open ocean) is the best way to see everything this island has to offer. Most companies have kayaks and safety gear for young kids, so the whole family can go together. Though nothing is guaranteed, visitors often get to glimpse unique bird species like herons, pelicans, wood storks, and egrets on land and in the sky. They may even spot some water dwellers such as manatees, otters, and dolphins.
Witness the incredible talent at Kona Skatepark
Kona is the oldest privately-owned skatepark in the U.S. with lots to do for every age and skill level, from first-graders all the way up to the pros. Locals will shower you with stories about meeting Tony Hawk — which isn't a rare occurrence, given the number of times he's visited this famous spot. Kona also has a gear shop if you need to buy some equipment. But for just $20, you can rent everything you need for the day, including a skateboard, helmet, knee pads, elbow pads, and wrist guards. And, if you're more interested in watching the action than getting in on it, you'll find plenty of places to watch the awe-inducing tricks and flips.
Shop at Riverside Arts Market
Part farmer's market, part food cart pod, part handmade goods market, the Riverside Arts Market has something for everyone every weekend. Whether you're in the market for a good spice rub for your dinner roast, you want to do some finger painting with your kids, or you want to watch the local entertainers, you'll have a blast here. Half the fun is poking around and seeing all the strange crafts and products you didn't even know existed. Pressed flower art? A dozen different kinds of pickles? Yeah, those are things here.  
Hunt for shark's teeth along Mickler's Landing
Mickler's Landing Beach (pronounced "myklers" by locals) is famously littered with shark teeth, which many people say are leftover from prehistoric times. Searching for teeth along a beautiful beach is a fun activity for all ages, though it's particularly nice for families with smaller children. While the adults get to stroll the beautiful beach, kids will be thoroughly entertained with the treasure hunt. Mickler's Landing is located along the south end of Ponte Vedra Beach, just 18 miles southeast of downtown Jacksonville.
Jacksonville is a beautiful, fun town with lots to do — indoors or out. Have you been before? What did you do while you were there? Find us on Facebook or Twitter and give us your recommendations! And if you're looking for a new home in Jacksonville (or anywhere else, for that matter) let us know! We'd love to assist you.
Tags: Everyday Living, jacksonville, Jacksonville real estate