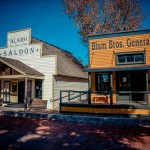 Dallas, Texas may be known for oil, football, big hats, and cattle ranches. But this beautiful city boasts
a ton of surprises along the way
as well. Did you know Dallas has some of the best restaurants in the country? How about the fact that the city has dedicated significant time and resources to preserving historical sites? Did you know it has one of the oldest and largest zoos in the country? There's a lot to do in the Dallas-Fort Worth area — so much that whittling down our long list of favorites to just a few attractions was nearly impossible. But here they are: the four must-try spots to experience Dallas like a local.
Lockhart Smokehouse
With two locations — one in downtown Plano and another in the Bishop Arts District — Lockhart Smokehouse serves up classic, central Texas style barbecue to a wide variety of hungry locals every day. The ambiance is casual, and many of the items on the menu are meant to be eaten with your hands. You order in the back and the food comes wrapped in butcher paper that lends an authentic feeling other restaurants just can't match. Meats are sold by the pound, and diners get a lot of food for very reasonable prices. Though this is a traditional Texas smokehouse, Lockhart goes out of its way to accommodate the modern world with gluten-free options and a surprising amount of vegetarian sides. Speaking of which, the blue cheese slaw is a crowd favorite. And you can't go wrong with the mac and cheese, smoked baked beans, and potato salad.
Pocket Sandwich Theatre
When was the last time you went to see a play in a mall? Never? Then you're in for a treat. After 35 years in business, Pocket Sandwich Theatre is the second longest running theater in Dallas, and provides a fun, unique experience that you simply can't find anywhere else. Many theaters go for a buttoned-up approach, but Pocket Sandwich Theatre is all about the laid-back fun. Their "popcorn shows" encourage audience participation, beginning with the invitation to throw popcorn right at the actors. They serve casual dining food and drinks at the venue, and have many kid-friendly shows to choose from. Ticket prices vary depending on the day of the week, with discounts for seniors and kids on the weekends. Get there early — this popular local spot is first come, first served.
Dallas Zoo
Every major city has a zoo, but the Dallas Zoo stands out from the crowd. Built in 1888, this is one of the oldest and biggest zoos in the country with more than 2,000 animals on over 100 acres. You can easily spend an entire day (or more) wandering among all the exhibits. Little kids go nuts for the dinosaur train ride, and everyone loves the gorgeous views from the monorail — you get to go under a waterfall without getting wet! The exhibits cover a large assortment of animals, with lots of educational opportunities sprinkled in. Don't miss the albino alligator, the gorilla habitat, or the giraffes. The giraffe exhibit lets you get extremely close to the animals, and for five dollars, you can even feed them lettuce right out of your hand!
Dallas Heritage Village
If you're interested in doing a little time traveling, Dallas Heritage Village is the place to go. Each of the buildings here was a real historical site, which was then relocated to the village. You'll get to explore a Victorian schoolhouse, a turn of the century bank, a real 1890s doctor's office, and a famous 19th century cotton plantation home called Millermore Mansion. This place is more like an enormous, outdoor museum that's great for kids who need room to run around between exhibits. There's a more energetic, easy going feel to Heritage Village than you'll find at most museums, plus everyone will enjoy plenty of hands-on activities. Take a lesson from a real blacksmith or ride in a covered horse-drawn carriage!
With so much to see and do in Dallas, you could spend weeks visiting all the great restaurants and entertainment attractions without ever getting bored. Wherever you go, you'll be greeted by a diverse population of proud Texans. This is a large city with a small town feel, so don't be shy! There's a reason the Texas state motto is "Friendship." You'll strike up conversations with locals everywhere you go.
Have you ever been to the Dallas-Fort Worth area? What are your top can't-miss activities and restaurants? Join us on Twitter and Facebook and let us know! And if you're considering a move to the Lone Star State, get in touch. Our Texas branch is right in the heart of Dallas!