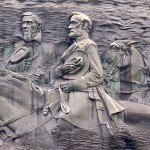 Atlanta has no shortage of things to do. Whether you're single, married with kids, just in town for the weekend, or looking to make this beautiful city your new home, you'll never run out of fun things to do here. When you arrive in Atlanta, everyone will tell you to
visit the Coca-Cola factory
. While it's certainly worth a trip, there's so much more to see in this incredible, historic city. Here are our top five must-see attractions and experiences that are just
so
Atlanta.
Forget the shows — take a tour of Fox Theatre
This historic spot has plenty to offer the theater-loving crowd. But if you've seen shows and never taken the Fox Theatre tour, you're not getting the full experience. For instance, did you know that the carpet pattern was designed by William Fox, the founder of Fox Film? Or that the lounge chairs are replicas of the the chairs stuffed inside King Tut's tomb? There are so many fascinating touches in every nook and cranny of this famous theater!
Listen to a story at The Wren's Nest
The art of storytelling might have evolved into books, movies, video games, and podcasts, but that doesn't mean the old form is lost. Originally owned by writer Joel Chandler Harris, The Wren's Nest is a house steeped in Southern history. Today, though, it serves as a wonderful spot to go and experience storytelling at its best. Both children and adults will love it. Stories are performed every Saturday afternoon at approximately 1:00 p.m.
Stop for a burger at the world's largest drive-in
The Varsity is a historic local burger and hot dog restaurant that's been around since 1928. It's often called the world's largest drive-in, though with seven locations, it can be tricky to know which location to visit. Start with the downtown location, which has the capacity to feed 600 cars in the parking lot and 800 people inside the restaurant itself. There's a large menu, but we'd recommend the chili cheese dog and fried pie for a truly local experience.
Walk the halls of the College Football Hall of Fame
Whether or not you're a fan of football, you have to admit it's a sport that runs deep through this country — a fact you'll instantly be reminded of as you stroll this fascinating museum. In addition to some fascinating things to see at the College Football Hall of Fame (like the massive wall of helmets), you'll find plenty of things to do as well. There's a large place to practice kicking field goals, and several opportunities to improve your passing game.
Get outside and enjoy Stone Mountain Park
Trying to explain Stone Mountain Park to anyone who hasn't visited is tough. It's not quite like the other national or state parks you may have visited; that's because it's also a theme park. That said, it's not quite Disneyland, either. So what is it? It's an amusement park out in the wilderness, complete with hikes, rides, obstacles courses, an enclosed ski lift, and tons of other seasonal attractions. And that includes a giant stone carving of Civil War heroes Stonewall Jackson, Robert E. Lee, and Jefferson Davis.
There's no question that Atlanta is a beautiful, vibrant city, brimming with important cultural touchstones. It's true that you can't walk down a single street without coming across some important historical site. So be sure to check out these five Atlanta attractions, but don't stop there. There's lots to explore. No matter where you go, you'll have an amazing time!
Have you been to Atlanta? What were your must-see spots? Tell us about your trip on Facebook or Twitter. And if you're looking for a home in Georgia, let us know! Our primary office is located in Atlanta, and we'd love to help you find your next home!