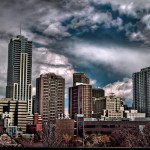 Denver has just made Urban Land Institute's (ULI) list of the top U.S. Markets to Watch in 2016. The report says that next year "is the secondary and tertiary markets," as opposed to primary markets or "gateway cities" like Los Angeles, New York City, and Washington DC. Secondary markets continue to attract people because they're places where people love to live and work. And Denver is certainly one of those places.
We've had our eye on this storyline for a while. A few months ago, we explained how Denver's booming economy is boosting Denver's housing market. The area has seen an increase in highly-educated workers, which has contributed to Denver becoming a hive for tech industry startups. In fact, some experts say that Colorado could be giving Silicon Valley a run for its money. According to ULI's report, "Denver has taken advantage of a location and a culture that are attractive to a qualified workforce and exposure to growing technology industries."
Outdoor recreation opportunities have also contributed to the equation, making Denver even more appealing to tech companies. A recent article in ULI's Urban Land Magazine points out that "while 300 days of sunshine annually may be a significant reason for recent graduates to consider locating in Denver, a thriving jobs market and high-quality housing options are significant reasons for workers to consider staying." We don't need to be told how beautiful and exciting Denver is, but we're glad it's getting the recognition it deserves.
If you'd like to learn more about which markets are on the rise, make sure to download and read ULI's full report, Emerging Trends in Real Estate. Dallas tops the list of markets to watch, with Atlanta in the fifth spot, and Phoenix, Indianapolis, and Minneapolis-St. Paul all making the top 25. We're excited at the prospects for all of these cities. For more information about any or all of them, contact one of our many branches today.