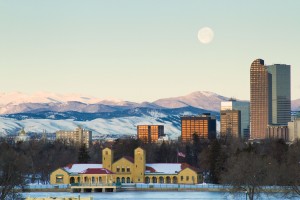 As we discussed back at the end of 2016, millennials — or those born between 1982 and 2000 — have become the dominant force in home purchasing, grabbing 35 percent of the entire market. And that trend looks to be continuing into 2017, for the fourth year in a row.
But what's the best city for millennials to move to in this market? Based on income growth, the unemployment rate, home appreciation, and local activities, First Option has made its prediction for the best city for millennials to move to: Denver, Colorado.
A little about the Mile High City
Denver is one of the fastest growing big cities in the United States, with a current population of 2.7 million and a growth rate that has consistently outpaced the national average every decade since the Great Depression. Over the next 10 to 15 years, Denver's metro population is expected to increase by almost 50 percent, with close to a million new jobs on the horizon. And a huge chunk of those new jobs will be tech companies and internet-related startups.  
Along with the booming economy comes some booming 2017 figures to chew on:
Denver home values are expected to

grow by more than 8 percent

in areas like Globeville, Centretech, and City Center North.

Overall, Denver homes are expected to appreciate 3.6 percent this year.

The state income tax rate is 4.63 percent, which is about average for the rest of the country. Colorado sales tax is slightly above average, but it's offset by

low property taxes

.

The

median price of a single-family home

in Denver has risen by more than 11 percent year over year to about $350,000 (as of December 2016).

Zillow predicts Denver will be the ninth-hottest real estate market in the country in 2017.

Now that that's out of the way, let's get to why the Mile High City is really a rockin' place to live for the younger generation.
Skiing and sunshine
Denver is set along the breathtakingly beautiful Rocky Mountain Front Range, with easy access to some of the best skiing and mountain climbing in the world. It's also a great city for biking, whether to get to work or just cruising along any of the countless biking trails. And one of Denver's best kept little secrets is that it receives about 300 days of sunshine per year … along with about 50 inches of snow, too.
Grab a frosty one
Outside of Portland, Oregon, Denver has more microbreweries than any other city in the country, prompting lager aficionados to refer to it as the "Napa Valley of Beer." And if you're not a fan of the hops, you'll still find plenty of other indoor recreational activities to fill your evenings.   
Catch a local event
There's no shortage of exciting events and cultural celebrations to take part in throughout the year, like the nation's largest Cinco de Mayo celebration, Longs Peak Scottish-Irish Highland Festival, Denver PrideFest, and countless more. Catch a live music festival or taste some savory barbecue in the Five Points neighborhood, or grab a fancy cocktail and dine at a trendy restaurant in the hip Highlands neighborhood near downtown. In Denver, there's always something exciting to do.
Considering buying a home in the Mile High City? First Option is always here to help. Get in touch with us anytime, or connect with us on Twitter and Facebook.
Tags: Denver, housing market, millennial