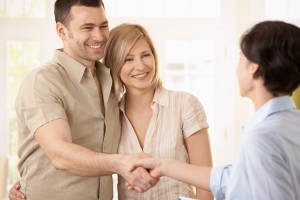 The frantic months of spring homebuying season are officially upon us and 2013 is shaping up to be one of the best since 2007. What's more, lenders are beginning to relax mortgage guidelines, allowing more potential buyers into the market.
Before 2007, lending guidelines allowed for, in some cases, unqualified buyers to obtain zero down mortgages under less than favorable mortgage terms. This helped fuel the foreclosure crisis that ensued and when the market crashed, the market overcorrected by enforcing strict lending guidelines that included 20% down and sparkling credit requirements to qualify.
Once again, moderation has found its way into the equation and lenders are increasingly accepting lower down payment loans as government sponsored Fannie Mae backs more of them and private mortgage insurers along with their lending counterparts are willing to accept more lenient credit requirements and lower loan-to-value ratios on home purchases.
FHA Loan Requirements
FHA mortgages can be an attractive option for first time homebuyers because of their low down payment requirement and low interest rates. With an FHA loan you can purchase with as little as 3.5% down and need only carry a 620 or higher FICO credit rating.
Though this can be a great choice for those looking to put the minimum amount down to get into a new home, the flip side is that they recently increased mortgage insurance premiums to compensate for potential budget shortfalls. This means that in many instances, if you have slightly more to contribute to your down payment, a conventional loan with lower mortgage insurance premiums may be the way to go.
Conventional Loan Requirements
Depending the loan package your are looking at, you can be looking at as little as 5% down and a mere 640 credit score to qualify for a conventional mortgage. The benefits of a conventional vs. a FHA are many. There are a variety of loan options to choose from that are structured in ways that can be more specialized to the buyers needs.
Adjustable rate mortgages with low introductory interest rates are a great option for first time homebuyers that plan to move up in five to seven years and sell their existing home. The private mortgage insurance can also be lower than FHA which can be a huge benefit to purchasing a conventional loan.
Whether you are considering an FHA, VA, USDA or conventional home loan, First Option Mortgage can help!  Simply fill out our Fast Response form or give us a call at 888-644-1999.  Our experienced mortgage professionals would love to sit down and discuss your needs. We look forward to hearing from you!
Tags: 2013 Housing Trends, best time to buy a home, first option lending, first option mortgage, first time home buyer, home mortgage, house hunting, mortgage education, mortgage lending