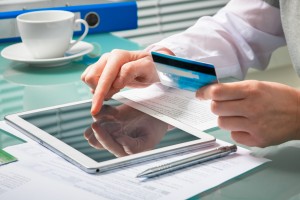 Credit is a double-edged sword. On the one hand, it provides several powerful financial tools. On the other, it can totally get out of hand, landing you with a ton of high-interest debt. October 20 was Get Smart About Credit Day, and the holiday offers a few valuable lessons that can help you manage credit and debt moving into your financial future. Below are three that can help set you down the path to credit success.
Convenience is your ally and enemy
The most easily available form of credit is the trusty credit card. Other than making purchases easy, credit cards can provide cash advances. They also provide a centralized way to track expenses, with many companies offering powerful tools to track spending. Many cards come with great perks as well, like cash back or airline miles.
All this sounds pretty great, right? The bad news is many credit cards come with high interest rates, due to their convenience and the risks they saddle creditors with. If you're not paying enough on a large amount of credit card debt, you're actively losing money. The convenience comes with a cost.
Be fastidious
This leads into the next point. Keeping good records and being mindful about your purchasing is step one to managing credit — instead of letting it manage you. Try to keep spending around 30 percent of the total credit card limit. That will keep interest manageable. Even better, pay off the card before interest is accrued. You still get the benefits of the card, minus the negative stuff. It requires attention to detail and self-control when it comes to making purchases.
Climb the credit mountain
Your credit score can be vital when it comes to taking on larger debt. If you manage it properly, you'll build good credit, which will increase the likelihood of a bank taking financial risks on you.
But how do you do that? It's not as scary as it sounds. If you check out FICO's website (the folks in charge of credit scores), you can see that it's not an overly confusing breakdown. 65 percent is divided up between payment history and the amount owed. If you make payments on time and don't borrow too much, you're more than halfway there! Other important details include a proper mix of credit, the length of your credit history, and how much new credit you've taken on.
Hopefully, this post has given you a good idea of what the world of credit looks like. If you're interested in finding out more or starting your personal home buying journey, get in touch with us. We're always listening on Facebook and Twitter, too.
Tags: credit, credit cards, FICO, home ownership