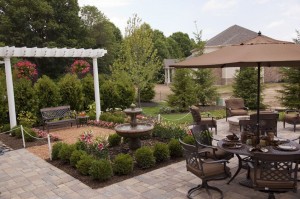 When the weather's nice, few things are as appealing as an evening spent outside, relaxing after a long day. With spring here and summer on its way, many homeowners are looking at their lawns, ready to use them to their fullest potential. If you're hoping to make the most of your home's outdoor living space, follow a few of these suggestions as the weather warms.
"Harmonize" the Space
Your outdoor living space needs to conform to two things: your lawn and the design of your home. When determining the size of the patio, grilling station, or lounging area, consider the size of your lawn and natural elements like wind, and plan accordingly. Sections that are awkwardly cramped, spacious, or shadowy can disrupt the ambience of the outdoors—as can stylistic choices that clash with your home's architectural design. Make sure every element complements your house, and plan the layout as carefully as you would with any room in your home.
Consider the Views
One of the greatest delights of an outdoor living space is seeing the natural world—or at least what's growing in your backyard. Make sure your dining and seating areas overlook your flowerbeds and lawn, not an air conditioning unit. Similarly, consider the views of your neighbors. Unlike most rooms, an outdoor living space has no walls, so design it with privacy in mind. Chain link fencing is the least expensive, but it obscures nothing, so erect at least a partial wooden fence, and look for shrubbery that will grow and eventually provide more seclusion.
Build in Stages
Like some kitchen remodeling endeavors, you don't need to find the money to assemble everything at once. Begin with the necessities—areas for eating and lounging—and craft a plan to build the rest over the next few months and years. Your outdoor living space is your home, so consider what luxuries you want in it. Fountains, outdoor fireplaces, and hot tubs all appeal to different people, so decide upon your aspirations for the space and work toward them.
Tags: 2014 Housing Trends, Everyday Living, Real Estate