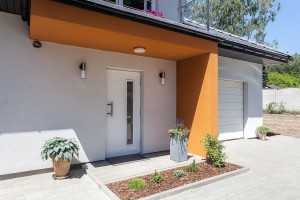 Converting Your Garage: It's You Or Your Clutter!
When you need a little extra space, just look to your garage! Your old, neglected friend might be holding a ton of clutter, or housing that car that refuses to pay rent, but a garage conversion could be so much more. Also, you could be saving thousands of dollars in costs compared to building an addition to your home from scratch.
With a new room, the possibilities are endless. Convert it it into a home office or a playroom. You could even rent it out for an extra bit of income. Take that, car. With options like that, he can sleep outside.
We've talked about the benefits of buying a tiny home before. Now, let's talk about turning your most underused spaced into whatever room you want. But don't start tearing off those garage doors just yet—let's talk about all the preparations before you consider a new room for your home.
Where Do I Start?
What do you want out of your dream garage-turned-room? Do you want to rent it out, or make it into a guest bedroom? Maybe you want to turn it into the office of your dreams. Whatever the case, visualize the room's purpose before you start. Different rooms will have different strategies for building, after all.
Once you have a goal in mind, you're ready to start! The next step is to decide if you'll make the changes yourself, or hire a contractor. It could be a huge cost benefit to roll up your sleeves and tackle the project yourself. But if you're considering more complicated renovations, like adding water or electricity, you might want to consider talking to the professionals.
The good news is your garage is technically the foundation, walls, and roof—you're already at a good start.
Get The Proper Permits
You'll need to get the proper permits, especially if you're planning on having someone live in the converted room. Other permits might be required if you're planning to add new plumbing or lighting, as well. If there's anything beyond simple renovations being done, it's best to be on the safe side. If there's any doubt to the extent of permits you need, it never hurts to speak to your local Office of Building!
Lay The Groundwork
Most garages are built on ground level. That may sound obvious, but when converting your garage it's often the first thing overlooked! Before installing any carpet, you'll likely need to raise and insulate the garage's floor to stop any water from seeping into the room. Same goes for insulating the walls and ceiling, with added moisture barriers for protection.
Next, you might require a professional's help to heat and cool the space. Depending on your situation, heating and cooling could be as simple as tying the new room into the central unit. In other cases, like with detached garages, you may need to install more heating, cooling, and electrical systems.
The Fun Begins—The Designing
Now all the hard stuff is done and the fun begins. Well…almost. We forgot about that garage door. Decide between either replacing them completely, or weatherproofing them as the room's entrance. Replacing them will require installing an insulated stud wall, and you might want to keep the doors to maintain the aesthetic of your home. Here are some great ideas for either option.
What's left for the room is for you to decide! If you want, add some windows and, if needed, an exterior door to make it feel like an additional feature. Some garages also have extra roof-space. Consult with a contractor to find the multitude of options available for your brand-new space!
Will A Converted Garage Increase My Home's Value?
There is some debate on the value a converted garage brings to a home. The value depends entirely on two things. First, the quality of the conversion. A beautiful conversion could add by the square feet, and a poorly-crafted conversion could actually decrease your home's value.
Second, the value depends upon your neighborhood. Do your neighbors all have garages. If so, a gorgeous conversion might leave your home less functional and attractive to buyers. If not, you could easily see converting a good portion of the price into your home's equity!
Where Will I Park My Car?
Definitely not in the newly-converted room! You'll be losing the best spot to park your car and store your things. This could be an inconvenience during the winter, or in neighborhoods without street parking or driveways.
How Long Should This Take?
Converting a garage is still a sizable renovation. While you'll be saving potentially thousands, you should expect to spend a few thousand dollars more; and 2-3 times that if you're converting into a bathroom or kitchen. Contractor work will vary, but expect to be garageless (and roomless) for several weeks, at most.
Are you thinking of converting that garage for a more desirable home on the market? First Option is always here to help with all your financing needs. Big or small, we have the advice and the professionals to help you succeed! Get in touch with us anytime, or connect with us on Twitter and Facebook.