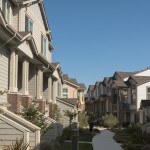 So you're ready to buy a home. Congratulations! It's an exciting time and a chance for you to start putting down roots and building equity by leaving the renting world behind. But deciding what kind of dwelling to invest in can be a daunting prospect. Many people wonder whether a house is the best first home or if a condo is worth the investment. Let's examine some of the pros and cons of buying a condo or a house.
Pros of buying a condo
Though it can be risky to assume they will, condos can appreciate more quickly, giving you the upper hand if you decide to sell.
Home improvements are taken care of by your homeowners association (HOA).
Condos tend to cost less than single-family homes.
Because most condos are in the city, they simplify urban living.
They're a step up from renting, because your money is going toward equity rather than down the drain as rent.
Many condos offer top-of-the-line community amenities, such as pools, fitness centers, and 24-hour gated security.
Continual upgrades and maintenance keeps the property value high.
Cons of buying a condo
Annual HOA costs may cancel out any potential appreciation gains.
You usually don't get to choose which improvements you make to your home.
Special assessments and monthly membership fees are subject to increase, often without warning.
Your neighbors live closer to you, and you should plan on sharing walls.
Condo fees aren't tax deductible.
Some condos have little cash in their reserves to pay for capital improvements like concrete repairs, painting, or roofing.
You rely on your neighbors to supplement the HOA budget by paying their fees on time.
Because your condo is just like your neighbors', it can be harder to sell, especially if your neighbor is also selling.
Pros of buying a house
Houses tend to appreciate more than condos.
You get to choose your own home improvements.
You don't have to pay annual maintenance fees.
You're (mostly) in charge of resale value.
Houses can be easier to sell.
Cons of buying a house
You have to do your own home improvements or pay someone to do them for you.
In that same vein, working toward building a higher resale value requires time and financial commitment.
Utility bills tend to be higher since houses usually have more space.
Unplanned expenses can sideline home improvement projects indefinitely.
At the end of the day, choosing whether to buy a condo or a house comes down to whichever works best for you and your situation. If you love living in the middle of a buzzing metropolis, a condo might suit you better. If you work in the city and prefer an escape from the daily hustle and bustle, living in a house in the suburbs or a more rural area might be for you.
If you're trying to decide whether to buy a condo or a single-family house as your starter home, contact us today to discuss your options.