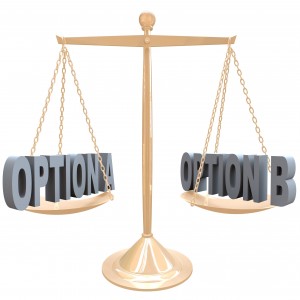 If you are in the market for a new home and you have done some shopping around already, you have probably been offered several different mortgage programs to consider. FHA loans and conventional loans are both popular programs for Columbus homeowners. Each has advantages that are worth considering depending on how long you plan to be in the home, how much you have to put down, and how expensive the home is your shopping for. Here are some key differences between these two options.
FHA Loans
An FHA loan is a mortgage backed by the Federal Housing Administration and provided by an FHA approved lender such as First Option. These loans were introduced to promote homeownership for low to moderate income Americans. This type of loan is also a great option for first time homebuyers who are more likely to have trouble coming up with a substantial down payment. You can get an FHA loan with as little as 3.5% down and can secure a competitive interest rate on a 30-year fixed loan term.
Though they are willing to offer these types of loans to people with less stringent credit requirements, there are some limits to this type of loan. There is a loan limit cap, so if you are looking at a single-family home above $341,250 in Columbus, the property will not qualify. Also, these loans require that you pay mortgage insurance throughout the life of the loan if you put less than 22% down. This can add up to thousands of dollars over the life of the loan.
Conventional Loans
A conventional Columbus mortgage will offer you much more variety than an FHA loan. These can be offered as a variable rate mortgage, which may include an initial lower introduction interest rate for five, seven, or ten years before switching to a variable rate loan. There is also no cap on the loan limit, and if you put 20% down on your home (or once you achieve 20% equity in your home), you  may be able to drop the mortgage insurance payment.
Credit standards on a conventional loan will be a little more stringent than an FHA loan, and you may be required to pay a higher down payment in order to qualify, but conventional loans can be a great option for people who may be looking to stay in the home for a shorter period of time, are looking in a higher price range, or are looking at more non-conventional style housing that may not otherwise qualify under the FHA housing guidelines.
Whether you are interested in and FHA loan or a conventional loan for your next Columbus Mortgage, or just want more information about the loans we offer, simply fill out our Fast Response form or give us a call in our local branch office located in Dublin at (614) 602-6020. Our experienced mortgage professionals would love to sit down and discuss your needs. We look forward to serving you!
Tags: Columbus FHA Loan, Columbus Home Loan, Columbus Mortgage, Columbus Mortgage Lender, Government programs