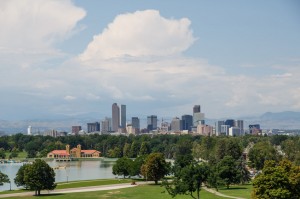 CoreLogic, which provides a housing price index nationally and by state has some great news for Colorado homeowners: Average home prices in the state reached a record level in March according to the latest report. This recent spike in the Rocky Mountain State is part of a national trend. Home prices all over the country are increasing significantly, symptomatic of the continued recovery and encouraging news to anyone who's invested in real estate.
Colorado Home Prices
When including distressed properties, Colorado home prices increased 9.1% in February compared to February of 2013. The growth is impressive, but the prices reached are now at an all-time high for the state. Though this report took average prices from Colorado as a whole, local Denver real estate analysts reported that the metropolitan area is among the strongest counties in the state. Even without distressed properties, Colorado home prices increased 7.0%, a sign of strong, consistent growth. Denver's housing market has recovered and now continues its upward climb, which is great news for homeowners and investors alike.
National Home Prices
Overall, national home prices increased at 11.1% in the same period—or 9.5% without factoring in distressed properties. This increase marks the 25th month of steadily increasing home values. Colorado home prices didn't increase at quite the same rate as the national average, Denver analysts are encouraged by its more moderate growth. Some markets leapt 20% or more according to this latest report, a less sustainable figure than Colorado's 9.1% figure, which signals steadier, more consistent growth for the future.
Colorado Sellers and Buyers
If you're currently trying to sell a home in the Denver area, you're likelier to benefit from these record highs. Colorado homes are appreciating at a strong, steady rate, which is great news for anyone hoping to buy soon. With lower than average inventory, the Denver market currently favors sellers, but it's clear real estate is a strong investment for the future. The steady growth of Colorado home values reveals a stable housing market for years to come.
If you're interested in  purchasing, refinancing, or learning about our low down and no down payment financing options in Denver, simply fill out our Fast Response form or call our local branch at (303) 803-1900. Our experienced mortgage professionals would love to sit down and discuss your needs. We look forward to hearing from you!
Tags: 2014 Housing Trends, best time to buy a home, Colorado mortgage, Denver Mortgage, house hunting, housing market statistics, Real Estate, Selling Your Home