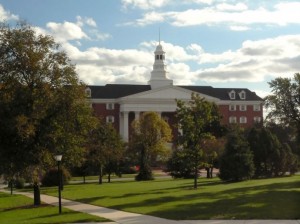 Almost every big city and most mid-sized towns have a college, university, or trade school within their limits—often within residential areas. This means that when you're looking to buy a home, you are likely to find quite a few listings near college campuses. These can be appealing to college graduates who are ready to buy a home, but many older homebuyers have an immediate negative reaction to the idea of living close to teenagers and twenty-somethings. Before you dismiss or commit to the idea, you should think about the pros and cons of living near a university.
Pro: Real Estate Investment
Colleges and universities tend to be stable institutions, which is why many of them are at least a century old. They strengthen the economies of cities and towns, and keep nearby real estate in steady demand. While neighborhoods in any city surge and wane in popularity, homes around university campuses retain their value, since students and faculty members are always in need of housing.
Whether you're wanting to buy a home for yourself that will retain or appreciate its value, or you want to purchase rental property in a neighborhood with high demand, houses near universities are a good real estate investment.
Con: Noise and Street Activity
This summer's college comedy Neighbors presented the downside to living beside a fraternity house. Like with most Hollywood films, the movie exaggerates. Homebuyers browsing listings near colleges shouldn't expect to deal with a kegger every weekend, but they will have to cope with more noise than most neighborhoods emit. Schools with good athletic programs will often attract crowds on game days. Even small liberal arts schools will foster student communities that frequent the surrounding streets, sometimes in droves.
If you're a light sleeper or prefer less-traveled streets, homes surrounding college campuses may not fit your ideal criteria.
Pro: Safety
For any extra noise, homes around campuses often have additional security with campus guards. Knowing that many students live nearby, but off campus, universities pay for added security. Officers regularly police the areas as well, ensuring students and other residents are safe, wherever in the city the campus is located.
Con: High Turnover Rate
Because a lot of real estate near a university caters to and depends on student population, homes often have a high turnover rate. Parents regularly purchase houses for their children while they're enrolled, then sell after graduation. If you want to rent your property, you may struggle finding tenants during the summer—or for periods longer than 3-4 years.
If you're buying a home near a college campus for yourself, your neighborhood may never have the feeling of permanence. As students and even faculty members come and go, the people in the homes around you will constantly change.
Pro: Urban Walkability
Urban planners take the presence of a university very seriously, and they understand many college students will depend on their feet or public transportation to get around. This means essential businesses are just a few steps away from any home around a campus—and the area usually captivates other enticing businesses like local bars and cafes.
Anyone hoping to buy a home central to the places they frequent, or wanting to limit their commute time, should consider listings around universities.
Con: Fewer Families
Because the neighborhood population tends to be more transient, fewer families tend to buy and settle in streets near colleges. The noise and increase of traffic, too, doesn't appeal to many parents, especially those with young children. Of course, many homeowners don't mind being among the few families in a neighborhood, but other areas in a city cater to families better.
If you're interested in buying a home near or away from a college campus, and if you want to know more about mortgage rates, fill out our Fast Response form. Our experienced mortgage professionals are here for you and your needs!
Tags: 2014 Housing Trends, first time home buyer, house hunting, housing market statistics, Real Estate