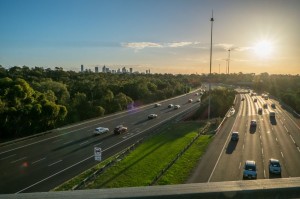 Where to buy your first home is a complicated question to answer. Many people don't know where they want to live until they come across the right neighborhood or street, and suddenly everything feels right. Before you begin scouring specific avenues, though, you need to decide whether you want to live in the suburbs or city, and we've compiled the pros and cons of both to help your decision.
Cost
It's no secret that housing in the suburbs will give you more bang for your buck. Two homes of comparable size will have radically different costs in the suburbs and the city. If you have a specific house in mind, you're going to find it at a lower price the farther from the city center you go.
Size
Again, suburbs would beat the city in any side-by-side size comparison. From the size of the lawn to basic square footage, suburbs have much more space available. Parents or couples planning on starting a family soon, then, often prefer to house-hunt outside of the city. It isn't impossible to raise an urban family, of course, but living space will likely be more economical.
Commute
Living near your place of work is a perk few suburbanites have. Cutting an hour each way off a daily commute result in the same level of job satisfaction as a $12k raise—and quite a few residents in suburbs have to drive at least an hour twice a day for work. With public transportation, bike paths, and less sprawl, the city wins the question of commute.
Lifestyle
In terms of lifestyle, both the city and suburbs have their own pros and cons, and they depend entirely on individual preferences. Louder, more active, and with every kind of business just a few blocks away, a home in the city usually attracts younger or more extroverted house-hunters. The suburbs afford more quiet, are often safer, and allow easier access to the great outdoors. You should consider your daily habits when deciding between a home in the city or suburbs.
If you're interested in purchasing, refinancing, or learning more about mortgage rates, simply fill out our Fast Response form. Our experienced mortgage professionals would love to sit down and discuss your needs. We look forward to hearing from you!
Tags: first time home buyer, house hunting, housing market statistics, Real Estate