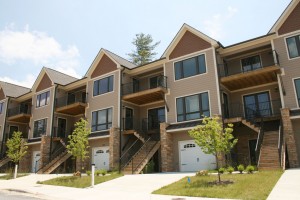 When it comes to purchasing a home, your options are enormous. What type of home you want to purchase comes down to several factors. Do you want new construction or a resale? How much property do you want to maintain? And a key question to consider is whether you want to live in an attached or detached home?
When it comes to attached homes, there are several to consider, a condo, a townhouse, and a semi-detached, which will typically be situated as a duplex. A detached home is pretty self-explanatory and is also commonly referred to as a single-family home. When determining which will be the right fit for you, there are a few things you should consider.
High or Low Maintenance
One of the biggest differences between the various levels of attached and detached homes is the amount of maintenance that will be required by the property owner. If you choose a condo, your obligations for maintenance will be confined to the interior of the home. With most townhomes, you may be required to maintain some of the lawn care and landscaping, but others generally others maintain the structure of the home, such as the roof and exterior paint. With a semi-detached and a single-family home, you are likely obligated to maintain the exterior, interior, and landscaping on the home.
HOA's
Homeowners Associations (HOA) fees will almost always be included when you purchase a condo or townhome. Depending on where you purchase a single-family home, you may be subject to an HOA fee as well. These fees are used to cover the cost of maintenance required to keep the common areas up and will also cover any amenities that may be included in your building or community. This could include a community pool, rec-rooms or community centers, a gym, and more.
On the flip side of  HOA's is there are often several covenants, conditions, and restrictions that you must adhere to. This can include pet, parking, remodeling, and renting restrictions—and in the case of single-family and townhome communities, they can also restrict exterior modifications such as what color you are allowed to paint your home.
Privacy and Soundproofing
When you share walls, it's natural for some noise translation between one unit and another. Builders will take steps to try to dampen the effect, but no matter what, from time-to-time you will likely hear your neighbors or disrupt your neighbors with your own noise. This is especially important to consider if you have young children who are more inclined to run around the home and potentially cause a disturbance to occupants of the adjoining unit. Townhome and condo communities also naturally create closer quarters with your neighbors. You may find yourself bumping into them in the hallway, elevator, lobby, or parking lot. If you prefer a little more distance, a single-family home may be the way to go.
Cost and Value
Heating and cooling costs can be less expensive for condo and townhome buyers because of shared walls. The construction cost is also lower because walls are being shared, savings which ideally will be passed along to the buyer. However, there can be costs tacked onto condo and townhome living, ranging from a parking or storage space fee to the customary HOA charges.
In the past it was often thought that single-family homes would improve in value faster than condos or attached homes. With the improved reputations of condo communities, and the recent popularity of condo living by first-time homebuyers and empty nesters, detached home styles have become more desirable. Both can be a wise investment if you choose a quality neighborhood and good construction.
Whether you're looking to purchase, refinance, or learn more about mortgage rates, our experienced mortgage professionals would love to sit down and discuss your needs. Simply fill out our Fast Response form or give us a call at 855-300-4339. We would love to hear your story!
Tags: 2013 Housing Trends, Everyday Living, first option lending, first option mortgage, first time home buyer, house hunting, Real Estate