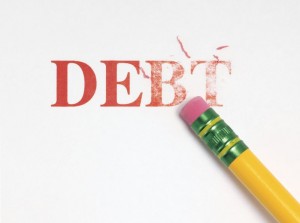 For most Americans, credit card debt is an ever-present reality. The total U.S. credit card debt now totals $931 billion. If you only factor indebted households, according to
Nerd Wallet
, that number leaps to $15,983. These are intimidating figures in and of themselves, but when you consider a typical 15.07% interest rate, many people will be paying off their credit cards for a significant portion of their lives.
First Option can help!
A cash-out refinance used toward credit card debt will not only save you tens of thousands over the years, but hundreds of dollars every month. To illustrate just how much, we've outlined a plan illustrating how much the average American would save with a cash-out refinance.
What You Pay When You Pay off the Minimum
Let's consider the average U.S. household credit card debt.
If you owe $7,087 on a card with 14.58% interest and make a minimum monthly payment of $141.74, you'll be making these payments for over 30 years, totaling $17,306.89.
It's a small minimum (2% of the credit card balance), but it's not much less than a small car payment, and more than a typical monthly car insurance bill. The total you'd pay over the decades amounts to ten thousand dollars more than your original credit card balance—money lost in interest. For those who owe more than the average, you can learn the total interest you'll be paying and the number of years to pay it with this credit card payment calculator.
These are daunting statistics, especially for those of us who can't afford to make more than the minimum monthly payment. A cash-out refinance with First Option, though, can erase this ten thousand dollar loss, while saving you hundreds each month on your credit card payment and mortgage bill.
How You Save with a Cash-Out Refinance
If you currently owe $200,000 on your home with a 6.0% interest rate, you can apply for a cash-out refinance of $207,087 and use the money to pay off your credit card bill right away.
If your current rate is 6.0%, your monthly principal and interest payments amount to $1,199.10. A cash-out refinance can secure you a lower mortgage rate, say 4.25%, which would drop your monthly payment to $1,018.74. Factoring in the end of your credit card payment, you'd save $322.10 every month by refinancing. Depending on the amount of time left on your current mortgage, this cash-out refinance could also save you upwards of $50,000 over the life of the loan.
Given the current low interest rates for a cash-out refinance, you'll save hundreds every month as well as tens of thousands from your credit card and mortgage payment.
Why Cash-Out Refinance Helps Your Credit—and Taxes
Beyond saving you money now and in the future, a cash-out refinance can improve your credit score, which may help with future loan applications, lower insurance premiums, and even deposits for utilities. Maxed out credit cards typically negatively affect your score, so paying them off with a cash-out refinance can give you a boost, even if your debt-to-income ratio remains the same.
Depending on how the money is spent, it can also help with taxes. According to thenest, the IRS won't consider the funds you withdrew in a cash-out refinance as taxable income, and unlike credit card interest, you may be able to deduct some of the new loan interest on your taxes. The rules can vary and become complicated, so speak with a tax professional to ensure you make the correct mortgage deductions when you file your taxes.
If you're interested in a cash-out refinance to pay off credit card debt, or want to know more about purchasing, refinancing, or current mortgage rates, simply fill out our Fast Response form. Our experienced mortgage professionals would love to sit down and discuss your needs. We look forward to hearing from you!
Tags: Everyday Living, home mortgage, mortgage education, mortgage interest rates, mortgage payment, refinance, refinancing