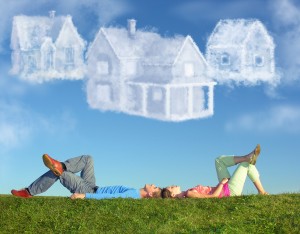 There are plenty of reasons to own a house, and most of them are far from financial. Shoppers can become so caught up in all the numbers, rates, and figures that they forget all the reasons to buy their first home. With choices that will affect your family and memories for years to come, owning a home is more than an investment, and more than just a dream.
With lower rates compared to 2017 and significant changes to the housing market, it's no surprise that more people are interested in homebuying. When deciding on where you'll hang your head for the next decade or so, it's best to think of all the pros and cons. To do that you need to think outside the box about all the possible benefits to earning a home.
We have you covered at First Option. Homeownership is much more than a monthly mortgage payment. Let's talk about more than neighborhood trends and sales figures. In the end, you might even see just how worth it buying a home is!
1. Owning vs. Renting
The difference between owning and renting a home may not feel like much of a change in the day-to-day, but the benefits to owning make a lot more sense for any long-term duration.
With renting, the property belongs to your landlord. Your relationship is subject entirely to your lease—a strict agreement between you, the landlord's property, and the landlord. With a mortgage agreement, you've essentially borrowed the money to own your home. The difference may not feel immediate during a closing, but the freedom you receive from each is.
Renovations and repairs are all subject to the agreement in a rental lease. That means if you ever want to do any painting or repairs you have to get approval from your landlord. Most importantly, rental agreements are temporary, meaning your living arrangements are also temporary. When a lease expires, a landlord is free to raise the rent, find another tenant, or even sell the property.
Basically, if you want to settle down or have a say in your living arrangements, purchasing your home is the best way to go. Otherwise, you better have a good relationship with your landlord!
2. Equity vs. Monthly Payments
Through the life of a rental lease, every monthly payment goes toward mostly illiquid or non-investable fees, such as utilities and rental fees. Just look at it this way-with renting you're essentially paying an owner for the right to live. Your monthly mortgage payment is composed a little differently.
With each monthly payment, a portion of your mortgage still goes toward some illiquid costs (like mortgage insurance), but it also goes towards principal interest and the total balance.
Each month you essentially set some money aside with you monthly payment to pay off your mortgage. This amount accrues significantly over the course of your mortgage as equity, considered one of the biggest incentives to owning your home.
Equity can be incredibly beneficial over the life of your mortgage. When selling your home, for example, your equity can go towards another down payment on a house. Whatever the case may be, when selling a home this equity becomes your's to use as you choose!
3. Location, Location, Location
If you've ever had an hour-long commute, you know how important a home's location can be to health and well-being. The same goes (if not more so) if you've ever started a family in an apartment!
Homes offer more flexibility for budding families or careers in a new location. Renting may also be doable, but with home rentals you run the risk of moving on a year-to-year basis—hardly the stability needed for a new family or job!
4. Backyards and Gardens!
The extra space that comes with homeowning can truly not be exaggerated. Along with the extra rooms and square footage per payment it's also nice to have your very own yard space. Barbecuing burgers by the poolside, tending a home-grown garden, or relaxing in a hammock are only a few of the things that make homeowning truly worth it.
It's doubly true if you're looking to add a canine companion to the family! Given the continued restrictions to pet ownership in apartments, purchasing might be your only choice! Living in an apartment with pets can be a huge hassle, especially if your pet was meant for the outdoors.
5. The Pride of Owning
Sometimes, it just feels better to own instead rent. We mentioned the difficulty with renovations as a renter, but there's much more freedom to design you get with your own home.
Most rental agreements forbid any major changes, and even repainting interior walls and molding must be fixed by the end of the lease. With owning, you can repaint and open up walls at your leisure, or renovate rooms and landscape as you please!
Even if a landlord to let you make upgrades or repairs, you've improving upon someone else's property. When it's your property, it's your rules. You're the boss, gaining the financial and emotional perks that come with home improvements.
6. In The End—It's Yours
There's a reason owning a home is at the center of the American Dream. Homeowning is a powerful, responsible feeling. You'll grow to love your property and the memories you'll share with family and friends. Your home will accrue costs, from repairs to home insurance, but it will also accrue memories. In return you'll own something concrete to show for all the blood, sweat, and tears. The end result is an investment that you can pass along to those that you love!
First Option Mortgage appreciates being the start to this journey. If you have any questions, please talk to one of our mortgage professionals today! They have personalized experience to make your homebuying process as painless as possible. And if you have any immediate questions, get in touch with us on Facebook or Twitter today!