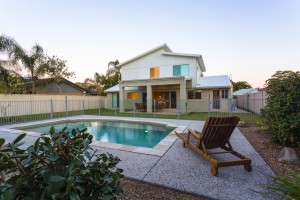 The clarion call of summer tickles your wanderlust and gets you thinking about buying a vacation home. Just like buying your first home, this isn't a decision to be made lightly, and it pays to do the research. Though it may be tempting to buy quickly and get ready to have a pool party, check out this guide first to ensure you're making a sound and long-lived decision!
Similar to buying a regular home, the key components are location, cost, and the long-term investment value of the home. It might seem intimidating, but we're here to help!
Location, location, location
While buying a vacation home in Hawaii sounds like a really great idea, if you live in Bemidji, Minnesota, you might be facing a bit of a trek every time you want to go enjoy your property. Many people opt for a vacation home that's within driving distance of their first home so they can easily drive down for a weekend.
If you're just planning on being at the home in the summer, finding a nice lakeside location can be wonderful, but it also pays to think about how accessible the property is year-round. If the house is going to be buried in snow for nine months out of the year, that's definitely something to consider. We've got a list of great vacation home locations if you're looking for ideas.
What are the real costs?
Usually, the minimum down payment for a second home is 10% and most lenders require reserves. But, you're not just paying for a home and property — you also need to furnish the home and pay the utilities year-round. And that's not including HOA fees and property taxes! When you're thinking about this part, it's probably a good idea to decide in advance if you're going to rent the home out or not.
If you're planning to rent, it's important to note that mortgage lenders have different qualifications for a home that's considered an "investment property." These sorts of properties usually have higher interest rates and more rigid requirements to qualify.
But if the vacation home you're looking at is a steal and you're excited to buy it, that's always a good reason to buy!
Long term value is king
We're not just talking about the monetary value. Short-term speculation on property values is usually pretty risky, so thinking about your summer home as a long-term investment is usually a pretty good idea. Take into account information about the area's market, and talk with a realtor to get a good feel for the long-term prospects of the property.
We hope you're excited to find a new place to live! If you've got questions about buying a vacation home, drop us a line on our contact form, or ask us on Twitter or Facebook. Happy house hunting!
Tags: Everyday Living, first option mortgage, first time home buyer, home mortgage, house hunting, mortgage education, mortgage interest rates